The men have had the health article this week, so now I am indulging in a little 'home spa'.  Taking a little time out is necessary for everyone, if you deprive yourself of this you may find yourself getting a short fuse, feeling overly emotional and, dangerously, becoming detached from yourself and how you actually are feeling.   Hundreds of years ago when the pace of life was a little slower, we had time to simply sit, and be, daydream, not have any demands on us, now with our blackberry's, iphones, facebook and mobile media we really do have to make an effort to not become addicted to them (seriously people are having to be weaned off these devices).  Pick one or more a week, treat them like a recipe, make sure you have all the ingredients and simply follow the instructions, easy!
Ready to set up your little sanctuary?  You can create two areas: Your bathroom will become your "treatment room," and your, bedroom, or living room will become your "quiet room," where you can relax after your treatment (I forgot to mention you need to remove children and husbands first). Clear away any clutter that will prevent you from relaxing and focusing on your spa experience. Stash your products and makeup so that you can't see them.  Pop lots of nice fresh towels in the bathroom, and make yourself a jug of "spa water" – ice water with sliced lemons, oranges or limes and cucumbers. You'll need this to rehydrate in your quiet room following your treatment.  Now for the test, turn off your computer, television, radio, and mobile—you shouldn't be distracted during your spa indulgence, absolutely not.
NB:  Please consult your doctor if you have a heart condition, high or low blood pressure, or if you are pregnant.  The Epsom bath and essential oils will have to be avoided, and if pregnant be careful of nail varnish and remover.
Simple Manicure
1) remove any nail polish with remover.
2) file nails in one direction only (always do this when your nails are dry).  Marie Claire suggests a shortish nail, straight across the top with rounded edges.
3) wash your hands.  Prepare the hand soak (apple cider vinegar – about 1tbsp in a bowl of water).  Soak and daydream away for 10 minutes. Dry hands with soft towel.
4) apply a fruit or nut oil into the cuticle area near the half-moon at the base of the nail. (Almond oil, Advocado oil, coconut oil or even olive oil work wonderfully.)  Use the blunt end of an orangewood manicure stick to gently push the cuticles back from the nails.
5) massage time.  You can use your favourite cream or why not look up a natural recipe?  Calendula cream from the baby isle is wonderful.  You can incorporate some of these pressure points: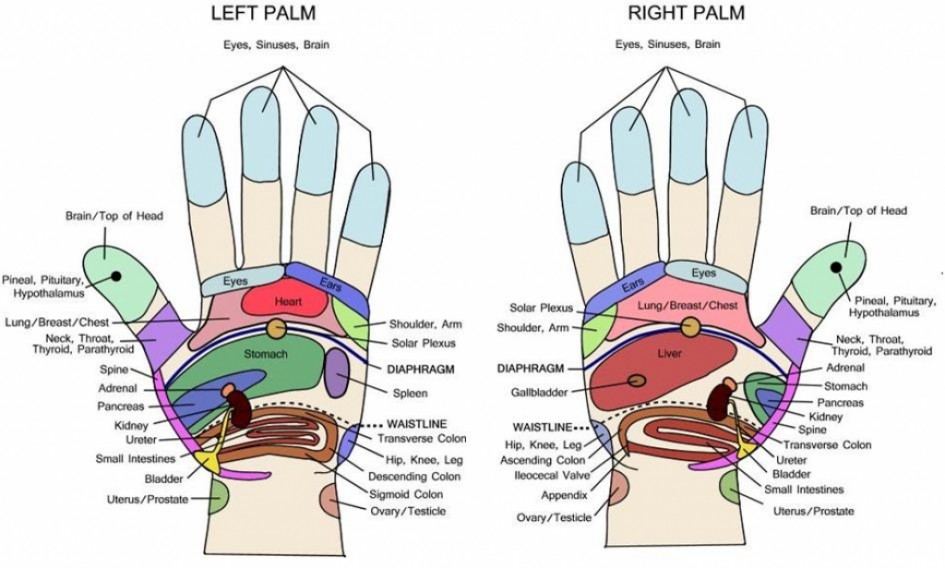 6) clean your nails with soapy water, you can now either use a gentle buffer to give your nails a natural shine, or add your polish.
Sit and relax for at least 10 minutes with some water.
Relaxing pedicure
1) strip old colour polish with remover on a cotton ball.
2) soak. Add Epson salt (2 tbsp) and your favourite scented oil (lavender, tea tree, rose) to warm water and soak your feet for 10 minutes.  I use a big bowl surrounded by lots of fluffy towels.  Sit back and relax.
3) buff. Dry your feet with a clean towel. Now you can exfoliate the feet and either use a pumice (gently) or a scrub, you can make a natural scrub:
Peppermint Essential Oil
Lavender Essential Oil
Sweet Almond Oil
Sea Salt
Firstly, you will need to measure out around one and a half cups of sea salt and add around 4 tablespoons of sweet almond oil. Make sure to combine the mixture evenly. Then simply add two or three drops of both the lavender and peppermint essential oils to the mixture.
4) trim. Cut nails with a toenail clipper, then file them to your length of choice. Run your finger across the top of your toe. If your nail barely grazes your finger, you've got the right length.
5) moisturise. Massage your feet and legs with your favourite cream, pay attention to any tender areas on the feet and legs.
6) soften. Apply Almond oil (Olive oil will work) or cuticle oil to your cuticles.  Leave to soak for a minute or two.
7) push. Use a cuticle stick to press cuticles back so they don't get in the way of the polish.
finally  polish. Apply a base coat first, then, apply two thin coats of polish. You can finish with a top coat for extra staying power!
Sit and relax for at least 10 minutes, drink some water.
Body Cleanse
We are going to use a simple technique of bathing for a really good cleanse!
Epsom Salts is the common name for Magnesium Sulphate which is a chemical compound containing Magnesium and Sulphate.  They are an affordable and easy way to enhance cleansing and to relieve stress. The high magnesium content within Epsom Salts help to draw acids through the skin and are well known for their amazing and effective way to relieve aching limbs, reduce muscle strain and are excellent in helping with back pain. On top of that they have been known to heal cuts, reduce soreness from childbirth and relieve colds and congestion from within the body.
Epsom salts are also a sedative for the nervous system.  Yet surprisingly not many people use them or know about their qualities.  When I was younger, you could buy kg bags from the local chemist, they now only sell them in tiny amounts, so you would do well to source a good supplier from the internet.  (Unless you have an old fashioned chemist around.)
You can run a hot bath and add up to 450g of salts.  It would be best to start with 100g and build up.  Simply sit back and relax.  Light a candle, sing, listen to music….
Stay until you need to get out and lay down for a good 20 minutes.  It would be best not to add any moisturizer to your skin, especially nothing artificial.  Ideally do this before you go to bed and make sure you drink that nice chilled water we prepared!
The Moon -  can have an effect on how we assimilate things, when the moon is waning and new we are mostly detoxifying, when the moon is full and waxing then we are able to absorb nutrients and toxin more easily, so if you want to be particular, the cleanse should be done on a new or waning moon!
Deep conditioning winter hair treatment
1/4 cup mayonnaise (room temperature if possible)
1/8 cup olive oil
1 egg yolk
4 drops lavender essential oil
Blend all ingredients together in a bowl.
Apply thoroughly through your hair adding extra at the ends.
Pile on top of your head and cover with a plastic shower cap and then cover with a towel to keep in the heat from your head.
Leave on for at least 10-20 minutes and then rinse out.
You can either rinse and leave hair overnight then shampoo, or if you are going out, shampoo twice and go.
A blast of cold water seals the hair follicles and makes hair super shiny.
More beauty tips in January.
A BBC news report last week announced that the economic downturn has led levels of work-related stress in the UK to soar, and that those who kept jobs during the recession are affected as much as those left jobless.
The report mentions alarming statistics, in each of the last two years, work stress levels have risen by more than 4%, compared to annual rises between 0.1% and 1% from 1992 to 2009.  You can read more of the BBC report here, and whilst I could talk about the fear level, I would rather write about the small steps we can make to ensure employees are not feeling the burden of work on their shoulders and are therefore able to be productive, creative and a valuable asset to your workforce in difficult times.
How well your managers are trained in people skills could have a dramatic effect on the resilience of your team and determine the productivity and bottom line profit of your company.  Alas, as training budgets are squeezed, so too is development of our key people, if we can convince the board that recognising, understanding and dealing with the signs of stress in employees is likely to keep our ships afloat, and make it a happier place to be, we will make for a smoother ride.  Our head of training describes this as 'learning to dance on the shifting carpet' rather than feeling it is being pulled from under us.
Managers can make a big difference when communicating by simply shifting to a more personalized approach.  If employees at all levels feel they are being able to contribute to the success of the company, they will feel empowered and more willing to pull together and be positive.  Here are some tips for effective communication:
Avoiding the rumour bug It can lead to low morale and decreased productivity.  Gatherings around the drinks machine and in the toilets can be avoided if line managers recognise they have an opportunity to enhance relationships with their employees by connecting with them on a much more personal level. Traditionally, line managers play a major role in employee engagement.  In a recession, workers rely even more heavily on them for interpretation and support.  Having accessible and visible leaders is critical to maintaining trust among employees. By proactively communicating accurate information, managers can curtail rumours and instil confidence in the truth.  Common modes of communication such as newsletters, mass e-mails, intranet and videos can seem impersonal and impassive, particularly at a time when there is a real possibility that co-workers will lose their jobs, so creating open lines of communication, and providing Managers with the skill to do this are key.
Inform Ensure all Directors and Line managers are equipped with accurate information that they are able to communicate down the line, to both teams and individuals if there is excessive worry, having the picture from your manager helps to curtail the 'what if' scenarios we can play out in our heads, even though it is perfectly okay to assume the plan may change, as long as this is communicated, the trust will be kept.   This can highlight the soft skills gap in some members of a leadership team, and this should be addressed with training, how to communicate the restructuring and downsizing, as it can be a big source of stress for many individuals.  The Management team would benefit from further training and facilitation, in the months following the announcements and restructuring, to develop ideas to further boost morale and keep the company on track and increasing profit, The Six Thinking Hats, Creativity and Facilitation can be invaluable here.
Honesty is the best policy Creating a sense of honesty, even when the news is not easy to hear, or communicate, helps everyone feel informed and engaged.  With the correct skill set, Managers are prepared to have difficult conversations with their employees and seniors, and whilst they may not always have the answers, having a clear sense of the business strategy going forward can help everyone understand the process, and in an office with open communication and ideas from the ground up, contribute to ideas to make the company more successful.  Enlist a suggestion box for all members of staff, this will encourage honesty, and give a true picture of the wellbeing of your employees.
Create appropriate channels Assessing modes of communication for effectiveness is always important, even more so in diffiult times.  Shift from broadcast communication to personalized communication, a model that has the advantage of being less costly.  Instead of creating new videos, plan a series of team meetings.  Rather than holding large conferences, schedule interactive workshops and enlist the assistance of a trained facilitator to ensure everyone is heard and the quiet personalities with great ideas can get themselves expressed to!
Forward vision In the months following announcements, leadership teams can be encouraged to update managers every month on changes to create a feeling of momentum. Well run meetings can also provide an opportunity for employees to ask questions and discuss personal implications. By setting up rapid clear well defined lines of communication and cultivating a positive work environment you can maintain the trust of the employees, and enjoy dancing on the shifting carpet.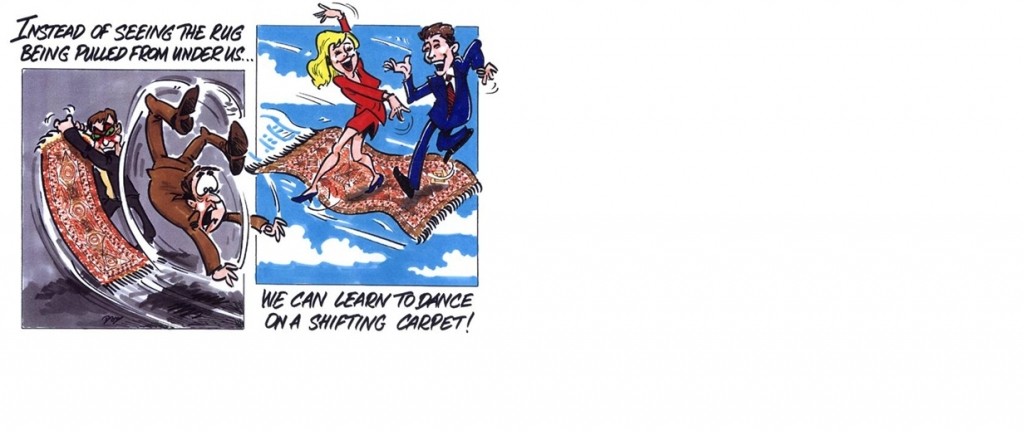 I don't talk confidently when I mention that men need to be pushed to the doctor as it seems that they may find it rude, or an assault on their intelligence.  However chaps, it's true!
A recent study released by the MHF (Men's health Forum) shows a high level of dissatisfaction among men with the current family doctor service and widespread support for extended surgery hours; many surgeries are closed at weekends, except for emergencies, and if you work away then it is impossible to get back by 6pm to fit in an appointment, and it seems that men are unlikely to take a day off to get to the doctor.
There were also requests for more male clinics, more check-ups and screening tests, many called for more 'male-friendly' surgeries, with more men's magazines and men's health posters in the waiting room, and more male receptionists and male nurse practitioners.
Alarmingly, a number of men said they felt 'out of place' when visiting their GP, and several suggested that GPs should hold male only sessions or male health clinics.  Several men wanted to see an on-line booking system. One proposal was that surgeries should be held in local betting shops, pubs, golf clubs and other men's venues.
A majority of the health professionals consulted suggested that during the course of their lifetimes, many men learned attitudes that pre-disposed them not only to poorer health behaviours, such as greater risk-taking than women, but also to poorer use of services. It was suggested that men were:
more likely to try to "tough out" illness
more likely to give priority to work commitments over treatment and rest
more likely to have a self image that encouraged them to deny illness — illness equals weakness
less likely than women to be prepared to discuss their health
more likely to fear the consequences of illness and disease
So come on guys, let's take care of ourselves, corny but true, you do only get one body and you would change your oil and water in your Maserati/Porsche/Ferrari/Robin Reliant, so whatever body work you have, you need to learn to look after what is under the bonnet!
This is the focus of our workplace health screening service, the feedback that having a whole 20 minute appointment with our Occupational Health nurse provides an invaluable opportunity to air concerns, and benefit from the health screening tests, including urine screen which can identify early prostate problems and diabetes.
Our WELLman workshop is an hour long and encourages open discussion and learning about men's health and wellbeing, and we have an alliance with the Prostate Cancer Charity, who are often happy to visit your work place and talk to you about signs, symptoms and treatment.
Also, I feel it is my place to warm you – It is that time of the year once again.  You may see a great variety; handlebar, toothbrush, pencil but don't fear, it's all in aid of a good cause!
Pay attention to your top lip and grow a moustache in the month of November! Following on from the amazing success of the 2009 event where 45,000 Mo Bro's raised over £5 million, this year Movember are hoping for even more people taking part and helping to raise awareness of prostate cancer.
The rules are simple:
Register on the Movember website and set up your Mo Page 

here

Start on the 1st November clean shaven and do not shave your moustache for the whole month
No goatees and no beards!
Help raise awareness of prostate cancer and ask people for sponsorship
This year's campaign focuses on the idea that every man deserves a little bit of luxury so act like a modern gentleman and grow a moustache!
To find out more about our UK wide men's health workshops and health screening, email us or call today, 0845 2263391.