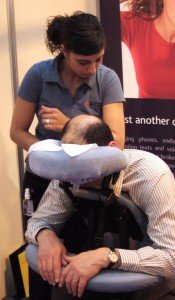 If you needed convincing of the benefits of calling on the wph on-site massage team to create a healthy working environment, they would happily oblige.  Over the last 12 years the Workplace Healthcare team have provided the service across the UK and Ireland and work with some great companies, many since they started in 1998.  10 great reasons?
Here they are:
target stress
boost productivity
low cost
improve morale
cut absenteeism
quick and immediately effective
no travel involved
great for health – proven to reduce high blood pressure
boost creativity
show staff you really care
Victoria Schermuly founder of Workplace Healthcare has been visiting companies around the UK for 12 years now and seeing the huge benefits of on-site therapies every day.  "Its so easy"  says Victoria " I've seen how difficult it is to fit appointments into a busy working day, so to make life easier and less stressful all round Workplace Healthcare come to you.  What's more as well as being one of the longest established company offering workplace therapies we were also the first to cover the whole of the UK and Ireland, so if your company is multi-locational it makes it even easier to set up."
What's involved ?
Each session lasts about 20 minutes and leaves staff feeling relaxed yet energised.  It is given on a comfortable, portable, specially designed chair and does not require staff to remove any clothes.  As a result it is ideal for people at work.  Workplace Healthcare on-site massage uses more than 100 different stress pressure points on the head, neck and shoulders, arms and back.  It is a wonderfully rejuvenating experience and leaves staff feeling alert, more focused and revitalised.  The effect is immediate and has a direct influence on well-being leading to increased productivity and reduced stress levels.  Call and contact centres can benefit from a 'roaming' service, shorter treatments which do not require the operator to leave their workstation.
Where ?
"Our clients include major blue chip companies to sme's both private and public sector, there really is no barrier,  and the feedback we get is fantastic" says Victoria  "many companies are use on-site therapies as part of a staff well being programme so we offer a joined up approach, with training, fitness and health screening enabling us to gauge the effectiveness of each intervention.  On site therapies also work really well on location! At product launches, training days and exhibitions – what better way to make your event really special".
Who?
There are many types of new companies offering on-site massage, how do I choose?  "It can be a bit of a gamble" says Victoria "however Workplace Healthcare can offer a truly professional service we have 12 years of experience de-stressing the business world.  All of our therapists are fully qualified and carefully selected for their caring nature and awareness of continual professional development.  What's more Workplace Healthcare can cover all of your business sites across the UK".
To hear 10 more great reasons to book Workplace Healthcare for your on-site therapies speak to Victoria today on 0845 2263391.

We have listened to you, and know that many of you would like to experience the Six Thinking Hats® workshops away from the workplace, so we have some dates for you!
Two open workshops are running in London, March 31st (
now full

) and May 17th (

spaces available

).

Six Thinking Hats® is a tremendously flexible technique which can be used personally, one to one and in teams/meetings. Its positive impact on your culture will be significant.
Dramatically improve meeting effectiveness – as much as 75% reduction in meeting time
Greater involvement of everyone in the team through "collaborative exploration" and Parallel thinking
Reduce frustrating and unproductive adversarial debate in meetings
Significantly improve the quality of decision making
Increasing motivation through people's greater contributions to develop solutions
Generate much more creative solutions
Greatly increase the number and quality of new ideas
Dr Edward De Bono's Six Thinking Hats® is a practical and effective management tool that can significantly improve the productivity and effectiveness of your organisation.  This has been proven over the years by many leading edge companies.
Rates:  Full day workshop = £475 plus VAT
You can analyse the past, but you have to design the future. 
Engage your employees, enhance their creativity.
Contact us for booking details.

For the fifth year running we had the pleasure of exhibiting at the Health & Wellbeing at Work 2011 event held at the NEC in Birmingham on the 8th & 9th of March. It's a great event, not just for promoting and selling our range of wellbeing services but also for networking with likeminded companies and individuals.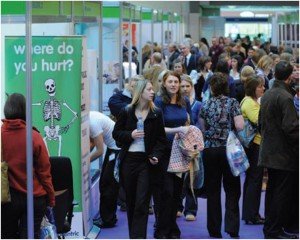 Sterling Events (the organisers) do a fabulous job, not just with the exhibition but with the conference programme that spans the two days. The depth and quality of speaker and subject matter makes this event a 'must be at' every year.
Topics covered included:  Stress management & emotional wellbeing; sickness absence management; health screening & health promotion; ergonomics; safety & accident prevention; equality, diversity & flexible working; managing MSD's & disability in the workplace; mental health; chronic disease and long term conditions; employee assistance; Occupational hygiene and environmental health; health & wellbeing policies and initiatives; employment law.
A whole day is dedicated to each of these topics, held within the various conference halls and rooms that surround the exhibition halls. Keynote speakers and experts deliver in depth and valuable information on these broadly related subjects. All under the one roof is the attraction and you will probably not find this coverage at any other event.
As for the exhibition, I did note that some of the bigger names such as Nuffield and Simply Health were not in attendance this year. Usually they have a big presence at this event, an event that is a perfect fit with their business models. I hope this not a sign of the times.
However, there was a vast array of SME's reflecting the vast range services and products that sit under the health & wellbeing umbrella. The positivity and energy of young start-ups and fresh,  creative thinking in a relatively (in some respects) new and growing industry always adds to the vibrancy of an event.
One negative factor of this, is the fragmentation of the sector. Each of the exhibitors commonly provide a single service or product, but my feeling is big business find it hard to deal with so many small providers when they launch a serious wellness initiative.
Big business usually at some point require everything quantified and justified, this is a big ask, as by its nature health & wellbeing, be it of a company or an individual is a complicated mix of configurations and permutations.  How we eventually present this in a cohesive understandable format is a big challenge. The preventative pro active side of health & wellbeing is the new and exciting side of the industry, a side that i truly believe in, if a company has the commitment and focus it can only benefit, however we need to communicate this in a way that big business understands. If we fail, then in combination with all the other challenges the economy is facing, could see the sector lose momentum.
 "Cogito, ergo sum".  I think, therefore I am, was written in the 1600's by Rene Descartes.   It is simple for us to understand that our thinking directly affects our mood, our emotions and our actions, yet how much time do spend looking at the process?  Or do we let it just happen?  
Our mind responds to stress as it is programmed to.  Different events can have very different effects on us as individuals.  For example, a tennis ball can bring to us many diverse thoughts; the great game of tennis, getting hit by the ball when playing as a child, throwing the ball for our dog who died, a great day out at Wimbledon; and so on.  
With this in mind! we can see that an event can conjure up an automatic response, based on our previous experience of the subject.  The more we have the thoughts, the stronger the neural pathways become in our brain and the more likely we are to react in a programmed way.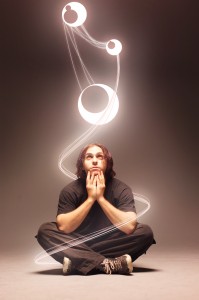 As part of our Managing Pressure course, we ask participants to look at their negative ways of thinking:  
"Everything I do goes wrong!"  
"No-one appreciates what I do."  
"I always get things wrong."  
"I give up: I will never get it right."  
We look at challenging some of the programmed thought processes.  Sometimes the thoughts are running at low volume and the internal chatter may be quiet as a mouse, almost tweeting away in the background, you will need to be aware, conscious of this and ask to hear it a little louder so that you can observe your thoughts over the week, and then decide what patterns you would like to reroute!  
Great, Positive thinking is all I need.  Not always true, I'm afraid.  We are going to look at some ways of changing our thinking and in turn our behaviour, however, have you ever been in a situation where it seems to keep coming back and biting you on the nose?  Look a little deeper and you may find you are holding onto a belief about the situation/event, see if you can trace it back by using the feeling it gives you ie (Despair) Everything I do goes wrong.  Where did this come from?  Were you told this at school, by a member of your family, by your boss?   
The key to making change in a conscious way is to experience the 'feeling'.  Let it be there.  Let the feeling of despair/anger/frustration/and so on simply be there.  By creating space for our thoughts and feelings, we can actually let them be, and then have the power in our hands to change them if we wish.  
You see, it isn't just a case of simple positive thinking, as often we haven't got to the route of the old feeling, they can splinter off into different areas and we need to be conscious enough to see the splinters and pull them to the surface!  
Once we have done so, then brilliant, we are ready to affirm our new desires/ways of thinking!  
5 ways to enhance your positive affirmations  
Pay attention to yourself, if you still have negative chatter then don't try and push it way, allow it some space and trace back the emotion it evokes in you.
Make your affirmations personal.  Can you really try and change someone else?  Use the words I, Me and My.
Affirmations have to be stated in the positive ie "I don't need cigarettes anymore"  is negative, it would be stronger to say "My lungs are strong and healthy" or "I feel full of life and my willpower is strong".
Make your affirmations easy to remember keep them small and write them down.  You can stick them to the fridge in the morning or take them into a meeting with you, I have even played tennis with someone who had one to hand!
Say them often, and if they aren't feeling true to you, revisit number 1, or try and write the affirmation in a different way.
Visit us for a free on site massage!
The importance of stress management and the affects on Mental health from prolonged excessive pressure are increasingly in the spotlight.  With costs estimated at just under £4 billion to the UK economy every year it makes good business sense to equip employees with the tools to understand the symptoms and causes of stress and provide simple cognitive methods that will help them to manage their own pressure. 
The Stress Prevention and Mental Wellbeing Forum on the 7th April is being run by Symposium Events.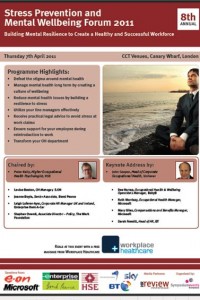 There is a great line up of speakers, including Peter Kelly – HSE, Louise Boston – E.ON and Dee Harrap from BskyB, all sharing knowledge on the subject and invvestigating best practice, what works for them, and practical ideas for you to try within your organisation.  For more information and to visit Symposium Events, click the image.
If you visit us, you can take advantage of a free on-site massage – specially designed to reduce stress, decrease the levels of stress hormones within your body and leave you feeling refreshed and revitalised!  Who could say no?
We would also love to tell you about our range of courses, including Managing Pressure for Positive Performance, Positive Thinking, Employee Resilience and the great Edward De Bono Six Thinking Hats, we hope to see you there.