Wellbeing Champions.
Sometimes the difficulty in keeping up momentum comes when the pressure of running a wellbeing campaign is all on your shoulders (HR/OH Departments).
Spread the load a little.  There is some evidence to suggest that your wellbeing campaign will benefit from enlisting the help of wellbeing champions within your workplace.
Put the question out there…….
Has anybody recently lost weight/attained their weight goal, would they be happy to help others by working with your wellbeing provider to promote the weight loss campaign?  How about a fitness goal/half marathon/personal best for someone?  Would they be happy to promote the new fitness classes you were thinking about running?  We often work with a number of employees within a company when there are multiple initiatives running, this way we can encourage and promote and most importantly, listen, through your employees ears.
The Management team from Workplace Healthcare were delighted to have the opportunity of attending the first meeting of the Employee Engagement Task Force in London last Friday.
The room was filled with a great deal of energy, Employee Engagement Managers from both Public and Private sector organisation who all had one clear goal in mind, engaging the disengaged, promoting happy, healthy working and spreading best practice to enable interested companies to try some tried and tested techniques.
You may be familiar with the "Engaging for Success" report,  Nita Clarke – David Macleod, 2009,  if not read a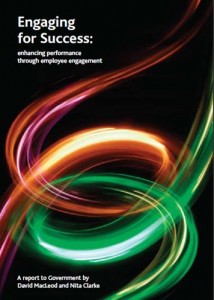 copy here. The reports objective was to try and gain a comprehensive understanding of a) what is 'employee engagement'  b) how to engage employees c) what could be the real benefits of high employee engagement d) how could we bring this all together to make a difference.
Post the publication of the report, the Prime Minister gave his backing in March this year to the creation of a new independent Employee Engagement Task Force, Friday being the first meeting of the group.
The Task Force work is based around the 4 Enablers for Engagement identified in the Macleod Review.
1> Strong, visible, empowering leadership provides strong strategic narrative about the organisation, where it comes from and where it's going.
2> Engaging managers who
Focus their people an give them scope
Coach and stretch their people
Treat their people as individuals
3> There is employee voice throughout the organisation, for reinforcing and challenging views; between functions & externally; employees are seen as part of the solution – not the problem.
4> There is organisational integrity – the values on the wall are reflected in day to day behaviour.
Naturally it's early days, we seemed to share similar feelings with everyone in the room, that employee engagement makes sense. Its the detail that is going to take the work. Any topic that is hard to box up or sum up in a paragraph let alone a sentence is always a topic that is a tough communique.
Working on where organisations can learn about engagement, where they can get started, how they can benefit, demonstrating the successes of engagement, engaging through economic adversity, dealing with the changing nature and approach to work, plus working on what we as individuals hope to gain and provide to the task force.
We hope to keep you updated, there are plans for an information source and the website: http://engagingforsuccess.org will hopefully flourish into a useful resource centre for engaging the disengaged and building a healthy and happy workforce.
Our services can be selected individually, or we can work with you to tailor an employee wellbeing day.  This service is available across the UK and you will enjoy the benefit of having one of our team work with you from conception to fruition, ensuring we listen to the details, delivering a great service.  This month we would like to say thank you to Colorcon for booking their wellbeing day with us.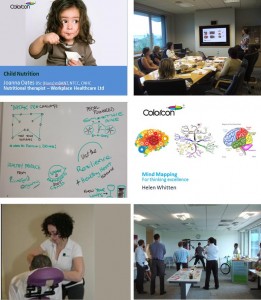 There was an energetic theme, with the Batak Pro providing the challenge  (well done Ben in IT!) and pedal power smoothie's fuelling the efforts.
Our focus was on fun and education and Colorcon selected a good range of training, Child Nutrition, Stress Busting Nutrition and Credit Crunch Meals; along with two workshops from our WorkSMART courses, Managing Pressure for Positive Peformance and Mind Mapping for Thinking Excellence.
It was a great day and as always, feedback and quality control is of great importance to us, I will be working hard to put this together for the Colorcon management team this week.
Thinking of running a health event in your work place?