Tie your well being events in with the world health days.  For example, this month gives us 'Love Your Gut Week' and who could miss an opportunity to promote healthy eating and exercise when there are direct links to an increase in ill health when we choose to ignore some simple healthy steps, the website has lots of free information and can help you kick start a campaign.  Our Nutrition workshops and yoga classes can be great additions to help advertise the healthy gut message.
In September we have Migraine Awareness week, setting up a stand with information for employees to pick up info, booking a therapist to offer Indian Head Massage, running a lunch and chat for employees who suffer or have relatives who suffer with migraine to share tips on what works for individuals and new ideas can all be used to promote wellbeing.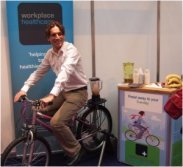 Other ideas that you could work with throughout the year are walk to work week, whilst not feasible for everybody, you could do a 'walk around work' week and utilise the pedometers that will come in ever so handy on a number of occasions!  In May we have fruity Friday, you could set up a stand with free fruit, have a member of staff with a blender blending up some tasty recipes (or have our smoothie bike on-site and pedal away to your 5 a day) promoting healthy eating.  There are lots of free resources, for example the British Heart Foundation will provide you with a wide variety of promotion information and leaflets –what's more they are free/donation.
In September we have 'Know your Number Week'  you could link this in with an awareness campaign, have your OHN's providing some health checks, or call on us to visit you and carry out our know your numbers health screens.
There is always something to add some zing to your campaign, set your budget early, plan the campaigns throughout the

year.  We will happily put together a proposal based upon the health days for the year for you, saving you valuable planning and resources, just get in touch!