In July we had the pleasure of working with City University on their 2012 version of the Universities wellbeing day. Branded under the 'Well – campaign for campus wellbeing' motto the event focused on Universities employees.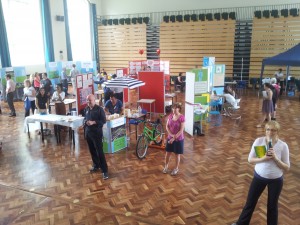 The event this year took a giant stride forward with a potentially daunting move into the Great Hall. As the name suggests this hall is big! There was only one approach…think BIG!
In liaison with the City organisers we hatched a plan that would cover as many angles -  from the fun to the serious, as was possible within the budget constraints.
Undoubted fun was the Smoothie Bike and Batak Pro (flashy light reaction game) and City chose heart health, alcohol and smoking, resilience and cancer as the exhibition stand subjects to highlight this year. The stands were manned to provide expert help and advice.
Employees also had the chance to book a mini-health screen with a nurse. A 15min slot for a cholesterol/glucose test and time to discuss any health worries/issues employees may have. This service was complimented by Saddlers (City's gym provider) who provided BMI and blood pressure checks.
Nutrition/Diet consultations were available throughout the day at the Nutrition stand, our dietician providing advice on healthy eating, balanced diets, food allergies/intolerances and more.
Always a favourite, and no different this year, was the therapist tent. Four therapists providing on-site massage and hand massage, a perfect wind-down from all the other activities.
In addition City brought in other attractions such as a sushi making tutorial, fruit juicing, uni's first aid team, and also ran a programme of demos on the stage of the Great Hall, the zumba and martial art classes definitely caught everyone's attention.
All in all a very wide mix. This is a good approach, it helps to engage people, get staff talking and most importantly get numbers through the door. It's guaranteed that there is something for everyone but hopefully while in the hall, individuals make use above and beyond just the things that initially caught their eye. As mentioned at earlier in the article, there are some serious subjects covered during the day and with expert advice available, potentially life changing. If that happens for just one person, it can be seen as a success.