Paula our massage therapist would like to share with you her top tips for relaxation and wellbeing as it is day 4 of Mental Health Awareness Week.
The main things I do to relieve stress is have a glass of red wine and go shopping !   Here is my list of top tips:
- Have a massage

- Hot bubble bath with sea/epsom salts
- Heated wheat bag around my neck and shoulders
- Lemon green tea with a slice of lemon
- Listening to birds chirping
- Beach holiday
- Mini trips outside the city
- Listening to music
- Walk in a park
- Dance classes (specifically ballet)
- Spending time in a bath house – especially in the steam or sauna
We hope you enjoy trying some of our ideas.  Victoria
We have been speaking here about mental health, anxiety and depression and one common thing we all seem to want when we are feeling strung out is a massage.
It is no surprise.  The American Massage Therapy Association has some great new research.  Regular massage can increase serotonin levels, which works to regulate mood, appetite, sleep, memory and learning.  Quite something.  They found that massage can aid sleep by enhancing coordination of the circadian system, which reminds me to massage my daughter – I am a massage therapist and must have the worst sleeper in town.  I suppose it is similar to being a painter and decorator and having awful decor…!
We wanted to share this wonderful benefit with you and offer you a reduced price on-site massage day for your colleagues.  Our full working day is normally priced at £252 – for the rest of May we are discounting it to £202 – so that you can feel encouraged to book quickly and jump on board.  Our regular customers know that providing corporate massage is one of the best benefits to the working environment, creating a wonderful feel good buzz in the office. Beware though – employees will want it every week!
Gemma, one of our brilliant massage therapists has the following tips for you to try (you probably already do these) if you are feeling stressed:
Write a list and get a clear sense of what needs to be done and what should take priority
Talk to a friend or loved one
Get a massage!
Confront the issue that is giving me stress head on (tempting to ignore it)
Go for a run
Have a glass of wine (not a good option I know but it happens!)
Read a book or watch a film
If you are in a position to, invite us in to massage your employees.  On-site massage is a great way of looking after your employees.  It provides an instant opportunity for employees to relax and get into a more receptive state of mind, creating a happier workplace.
Feeling strung out?  Unable to cope?  Mental Health Awareness Week is upon us (16th – 22nd May) and you will find lots of help and advice on the facebook site:  https://www.facebook.com/mentalhealthawarenessweek/ and the web site:  https://www.mentalhealth.org.uk/campaigns/mental-health-awareness-week
Join us on-line for top stress reducing tips from our trainers and therapists each day, including special offers for your workplace.
Gillian Burn, our trainer, is author of the Energy & Well-Being Pocket book (buy here).  She has these great tips for you for reducing stress and anxiety:
Stand up, go walkabout in the office or outside, even if it is only for 5 minutes
Take a break  – for a 60 second eye relaxation which is in my Energy and Well-being pocketbook
-          Close your eyes, take several deep breaths
-          Move your eyes to 3pm in an imaginary clock face thinking about your favourite holiday destination
-          Move your eyes to 6pm to think of a relaxing water scene
-          Move your eyes to 9pm to think of your favourite animal
-          Move your eyes to 12pm, to think of the countryside, your garden, out in the fresh air
Enjoy the sense of relaxation
Book our yoga, mindfulness and fit mind workshops for your employees!
We hope you enjoy this exercise, join us tomorrow for another top tip.  Victoria

March
Ovarian Cancer Awareness Month
Prostate Cancer Awareness Month
12th No Smoking Day
17th – 23rd Vascular Disease Awareness Week
22nd World Water Day
April
Bowel Cancer Awareness Month
6th – 13th Orchid Male Cancer Awareness Week
7th World Health Day
28th World Day for Safety and Health at work
February is national heart month.  Learning to take care of your heart is one of the most important things you can do for your health. Encourage your employees to know their numbers and book for employee health screening.  Three of the most important things to put into practice for heart wellbeing are:
giving up smoking – smoking damages your heart.  Your heart has to work harder as the Carbon Monoxide in tobacco smoke reduces the amount of oxygen in your blood.  Smoking also damages the lining of your arteries which can lead to strokes, angina and heart attacks.  Just in case you still fancied a fag break – did you know there is cadmium in your cigarette?  this is linked to cancer and is used to make batteries!
being active – encouraging your heart to work.  Not only does exercise assist in weight control, it improves circulation, increases good cholesterol in your body, reduces blood pressure, builds muscle mass and increases fat loss.  You don't need to rush off to the nearest gym, put on some of your favourite music and dance, hoover the stairs, create a circuit around your home or get out and have a daily walk – these are all beneficial in creating heart health.
eating well – increasing your fruit and veg, eating less refined sugar and carbohydrates – this includes white pasta and rice, including nuts and seeds and healthy oils such as coconut and olive are all good ways of keeping your heart healthy.  Your BMI (body mass index) is greatly linked to heart health.  Quite simply the more fat you carry and larger your waist size, the harder your heart has to work.
We would  like to add an additional idea for you to consider when looking at heart health: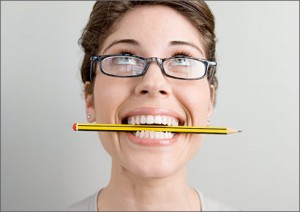 Stress Levels – providing yourself with a healthy emotional outlet for emotions can be key to heart health.  A healthy diet will not fix your heart if you are harbouring years of resentment and anger – however making changes to your diet can make you feel positive and encourage you to find a healthy outlet!  Learn to manage pressures differently – we cannot always alter the situation, we can alter the way we perceive it.  Great ways of dealing with blocked emotions: letter writing  -  you don't have to send it, quite often in my case a very good job I don't, but get all your thoughts and feelings out.  You can ceremoniously burn the paper afterwards or keep them, whatever works best for you; painting and drawing – doesn't have to look like anything, just free flow, use the colours and shapes that help you put your emotions on paper;  dance – this will help with that waist line as well and is a great way to encourage endorphins and positive feelings; laughter – book yourself in to a laughter workshop or just start laughing…try the pencil technique – pop a pencil in your teeth lengthways and notice that you are smiling even if you don't feel like it…after a while positive messages will be sent around your body and you may…just may feel happier!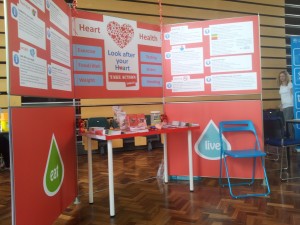 What can we do to help?  Heart Health is our business.  We can set up our heart health stand with literature and wellbeing information, provide our team of nurses to help employees understand the risks of heart disease, using biometric testing such as cholesterol, blood pressure and body mass index we can gauge individuals risk of heart disease and provide advice to individual employees.  Additionally, we can help employees to understand stress and pressure and how they differ, equip staff with coping strategies via our workshop or one to one coaching, promote healthy eating with our live food demo's and workshops and encourage exercise by setting you up with some in-house fitness classes.  Do get in touch if you would like to find out more.
In July we had the pleasure of working with City University on their 2012 version of the Universities wellbeing day. Branded under the 'Well – campaign for campus wellbeing' motto the event focused on Universities employees.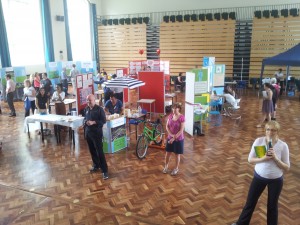 The event this year took a giant stride forward with a potentially daunting move into the Great Hall. As the name suggests this hall is big! There was only one approach…think BIG!
In liaison with the City organisers we hatched a plan that would cover as many angles -  from the fun to the serious, as was possible within the budget constraints.
Undoubted fun was the Smoothie Bike and Batak Pro (flashy light reaction game) and City chose heart health, alcohol and smoking, resilience and cancer as the exhibition stand subjects to highlight this year. The stands were manned to provide expert help and advice.
Employees also had the chance to book a mini-health screen with a nurse. A 15min slot for a cholesterol/glucose test and time to discuss any health worries/issues employees may have. This service was complimented by Saddlers (City's gym provider) who provided BMI and blood pressure checks.
Nutrition/Diet consultations were available throughout the day at the Nutrition stand, our dietician providing advice on healthy eating, balanced diets, food allergies/intolerances and more.
Always a favourite, and no different this year, was the therapist tent. Four therapists providing on-site massage and hand massage, a perfect wind-down from all the other activities.
In addition City brought in other attractions such as a sushi making tutorial, fruit juicing, uni's first aid team, and also ran a programme of demos on the stage of the Great Hall, the zumba and martial art classes definitely caught everyone's attention.
All in all a very wide mix. This is a good approach, it helps to engage people, get staff talking and most importantly get numbers through the door. It's guaranteed that there is something for everyone but hopefully while in the hall, individuals make use above and beyond just the things that initially caught their eye. As mentioned at earlier in the article, there are some serious subjects covered during the day and with expert advice available, potentially life changing. If that happens for just one person, it can be seen as a success.
During July, MEND (Mind Exercise Nutrition Do It) are promoting childhood healthy lifestyles. Check the link on the right hand side to see if there are any initiatives in your area. Whether you have children or not, children will shape the future of our country, and taking care of their needs emotionally and physically is an important job for everyone!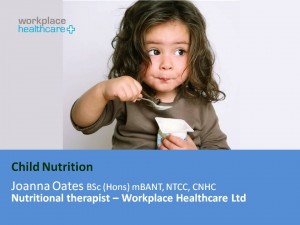 Good nutrition is by no means the solution to all of our problems, however we do have a real need to take action.
Obesity: is a growing problem. The UK is now the fattest country in Europe, overweight babies become overweight children who become overweight adults who will go on to develop related health conditions. Doctors are now concerned as seeing fatty liver which leads to cirrhosis in young children. This is a degenerative liver disease normally only seen in alcoholics.
Bone health: the return of rickets, cases are on the increase, (20% of 200 children in recent study exhibited symptoms of rickets!) children are not eating calcium which can lead to tooth decay and poor growth.
Mental health: 2-5 % children/teenagers suffer from depression; in a class of 30, 1-3 children may have
Immune system: children who do not eat properly are more prone to colds, infections, fatigue, stress, poor sleep – just like us!
Our nutrition workshops topics include feeding our children well and can be run in conjunction with one to one nutrition appointments for employees to discuss specific nutrition and wellbeing issues.
Want to know how to get started on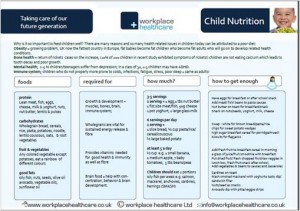 spreading the word?
Download our free nutrition sheet and pass it around the office/playgroup/school notice board – help get the message out to everyone.
Click the fact sheet to download (pdf).
Contact us for more information.
In recent times there has been a shift within the workplace health industry, from concentrating solely on an employees health to focusing on their overall wellbeing. A more holistic approach that encompasses not just the state of their physical health but also the health of their mind. Along with this has been a natural movement towards preventative initiatives, still backed up by the bedrocks of oh, health & safety, physio etc. This does imply a new and old approach, but this needs to be discarded for a 'one' approach, a joined-up approach if you like. Now this is important if you are serious about taking on and investing time and money in a wellbeing strategy.
Adopting this approach will help you no end further down the line. Quantifying the results, effect and return on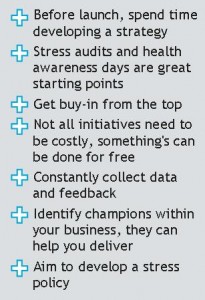 investment will empower you to keep your strategy on course, viable, and supported. Data collection makes it easy to  tweak or change things that are maybe not working and also gives you the opportunity to benchmark against other organisations.
What about costs? Everything costs but not everything pays back! A well thought out scheme will at worse break even, when you consider the potential outcomes eg lower absence rates, more productive & engaged staff, improved working environment, better team dynamics, stress reduction, these and many other outcomes all filter into the bottom line.
Compliance & regulation look to be going one way, tighter and tougher, so you may well be forced into dealing with this issue, but without doubt it is always much nicer to do things because you want to. The 'business case' is always important, but do not forget the social/corporate responsibility angle as well. First steps can be the hardest, if you have never tackled this issue before, don't despair this may be an advantage, to kick off with fresh impetus without the splinters of old schemes and dormant initiatives can make delivery a lot easier. Read our top tips and if you need to talk get in touch!
Avoiding employee burnout has to be at the top of the agenda for any business who is serious about the responsibility to their employees.  Directors, we are talking to you.  Burnout comes to many a top performer, and at an even greater business cost.  Having an effective work life balance policy and ensuring it is followed and not just sitting on the shelf, will reach out to all employees if it is followed from the top.  Managers who fail to realise that employees do need to have a life to be able to perform at their peak are putting their own success into jeopardy. We don't have to look far to see examples of senior Director's who have had a big impact on business income by quite literally spreading themselves too thin and burning out.
We launched our wellbeing workshops with Lloyds this week to support the new Commercial Wellbeing portal, Live Life Well.  The programme, designed to provide employees with the tools to understand and actively incorporate healthy living into lifestyles, consists of 5 main areas:  WellMan : WellWoman : EatWell : SleepWell : Resilience.
Each of these elements had a strong effect on employee performance and therefore a direct impact on the business bottom line.  If employees are not sleeping or eating well, or do not have the tools to effectively handle change and pressure in our increasingly pressurised world, companies may notice (or not notice but suffer from) presenteeism.  Whilst absence rates may be dropping, don't necessarily see this as a sign that things are great.
Presenteeism is defined by having employees who are at work, but not able to perform at their full capacity due to ill health.  In the current climate it is reported that nearly a third of workers will go into work when they are feeling unwell, because they are worried about their jobs.  This is an unsustainable situation, and the costs to Britain's business is estimated at over £15 billion per year.

So we can do our bit to promote wellbeing and healthy staff and profits, but we really do need awareness from the Board, Directors, Managers, the CEO to be able to make realistic changes that will improve employee happiness, health and wellbeing.