We have been speaking here about mental health, anxiety and depression and one common thing we all seem to want when we are feeling strung out is a massage.
It is no surprise.  The American Massage Therapy Association has some great new research.  Regular massage can increase serotonin levels, which works to regulate mood, appetite, sleep, memory and learning.  Quite something.  They found that massage can aid sleep by enhancing coordination of the circadian system, which reminds me to massage my daughter – I am a massage therapist and must have the worst sleeper in town.  I suppose it is similar to being a painter and decorator and having awful decor…!
We wanted to share this wonderful benefit with you and offer you a reduced price on-site massage day for your colleagues.  Our full working day is normally priced at £252 – for the rest of May we are discounting it to £202 – so that you can feel encouraged to book quickly and jump on board.  Our regular customers know that providing corporate massage is one of the best benefits to the working environment, creating a wonderful feel good buzz in the office. Beware though – employees will want it every week!
Gemma, one of our brilliant massage therapists has the following tips for you to try (you probably already do these) if you are feeling stressed:
Write a list and get a clear sense of what needs to be done and what should take priority
Talk to a friend or loved one
Get a massage!
Confront the issue that is giving me stress head on (tempting to ignore it)
Go for a run
Have a glass of wine (not a good option I know but it happens!)
Read a book or watch a film
If you are in a position to, invite us in to massage your employees.  On-site massage is a great way of looking after your employees.  It provides an instant opportunity for employees to relax and get into a more receptive state of mind, creating a happier workplace.
Feeling strung out?  Unable to cope?  Mental Health Awareness Week is upon us (16th – 22nd May) and you will find lots of help and advice on the facebook site:  https://www.facebook.com/mentalhealthawarenessweek/ and the web site:  https://www.mentalhealth.org.uk/campaigns/mental-health-awareness-week
Join us on-line for top stress reducing tips from our trainers and therapists each day, including special offers for your workplace.
Gillian Burn, our trainer, is author of the Energy & Well-Being Pocket book (buy here).  She has these great tips for you for reducing stress and anxiety:
Stand up, go walkabout in the office or outside, even if it is only for 5 minutes
Take a break  – for a 60 second eye relaxation which is in my Energy and Well-being pocketbook
-          Close your eyes, take several deep breaths
-          Move your eyes to 3pm in an imaginary clock face thinking about your favourite holiday destination
-          Move your eyes to 6pm to think of a relaxing water scene
-          Move your eyes to 9pm to think of your favourite animal
-          Move your eyes to 12pm, to think of the countryside, your garden, out in the fresh air
Enjoy the sense of relaxation
Book our yoga, mindfulness and fit mind workshops for your employees!
We hope you enjoy this exercise, join us tomorrow for another top tip.  Victoria
February is national heart month.  Learning to take care of your heart is one of the most important things you can do for your health. Encourage your employees to know their numbers and book for employee health screening.  Three of the most important things to put into practice for heart wellbeing are:
giving up smoking – smoking damages your heart.  Your heart has to work harder as the Carbon Monoxide in tobacco smoke reduces the amount of oxygen in your blood.  Smoking also damages the lining of your arteries which can lead to strokes, angina and heart attacks.  Just in case you still fancied a fag break – did you know there is cadmium in your cigarette?  this is linked to cancer and is used to make batteries!
being active – encouraging your heart to work.  Not only does exercise assist in weight control, it improves circulation, increases good cholesterol in your body, reduces blood pressure, builds muscle mass and increases fat loss.  You don't need to rush off to the nearest gym, put on some of your favourite music and dance, hoover the stairs, create a circuit around your home or get out and have a daily walk – these are all beneficial in creating heart health.
eating well – increasing your fruit and veg, eating less refined sugar and carbohydrates – this includes white pasta and rice, including nuts and seeds and healthy oils such as coconut and olive are all good ways of keeping your heart healthy.  Your BMI (body mass index) is greatly linked to heart health.  Quite simply the more fat you carry and larger your waist size, the harder your heart has to work.
We would  like to add an additional idea for you to consider when looking at heart health: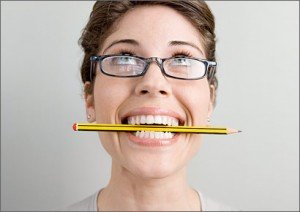 Stress Levels – providing yourself with a healthy emotional outlet for emotions can be key to heart health.  A healthy diet will not fix your heart if you are harbouring years of resentment and anger – however making changes to your diet can make you feel positive and encourage you to find a healthy outlet!  Learn to manage pressures differently – we cannot always alter the situation, we can alter the way we perceive it.  Great ways of dealing with blocked emotions: letter writing  -  you don't have to send it, quite often in my case a very good job I don't, but get all your thoughts and feelings out.  You can ceremoniously burn the paper afterwards or keep them, whatever works best for you; painting and drawing – doesn't have to look like anything, just free flow, use the colours and shapes that help you put your emotions on paper;  dance – this will help with that waist line as well and is a great way to encourage endorphins and positive feelings; laughter – book yourself in to a laughter workshop or just start laughing…try the pencil technique – pop a pencil in your teeth lengthways and notice that you are smiling even if you don't feel like it…after a while positive messages will be sent around your body and you may…just may feel happier!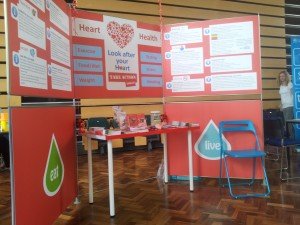 What can we do to help?  Heart Health is our business.  We can set up our heart health stand with literature and wellbeing information, provide our team of nurses to help employees understand the risks of heart disease, using biometric testing such as cholesterol, blood pressure and body mass index we can gauge individuals risk of heart disease and provide advice to individual employees.  Additionally, we can help employees to understand stress and pressure and how they differ, equip staff with coping strategies via our workshop or one to one coaching, promote healthy eating with our live food demo's and workshops and encourage exercise by setting you up with some in-house fitness classes.  Do get in touch if you would like to find out more.
During July, MEND (Mind Exercise Nutrition Do It) are promoting childhood healthy lifestyles. Check the link on the right hand side to see if there are any initiatives in your area. Whether you have children or not, children will shape the future of our country, and taking care of their needs emotionally and physically is an important job for everyone!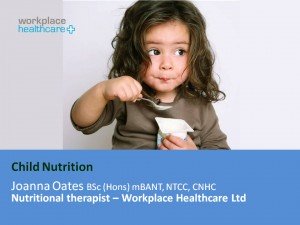 Good nutrition is by no means the solution to all of our problems, however we do have a real need to take action.
Obesity: is a growing problem. The UK is now the fattest country in Europe, overweight babies become overweight children who become overweight adults who will go on to develop related health conditions. Doctors are now concerned as seeing fatty liver which leads to cirrhosis in young children. This is a degenerative liver disease normally only seen in alcoholics.
Bone health: the return of rickets, cases are on the increase, (20% of 200 children in recent study exhibited symptoms of rickets!) children are not eating calcium which can lead to tooth decay and poor growth.
Mental health: 2-5 % children/teenagers suffer from depression; in a class of 30, 1-3 children may have
Immune system: children who do not eat properly are more prone to colds, infections, fatigue, stress, poor sleep – just like us!
Our nutrition workshops topics include feeding our children well and can be run in conjunction with one to one nutrition appointments for employees to discuss specific nutrition and wellbeing issues.
Want to know how to get started on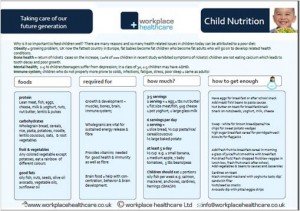 spreading the word?
Download our free nutrition sheet and pass it around the office/playgroup/school notice board – help get the message out to everyone.
Click the fact sheet to download (pdf).
Contact us for more information.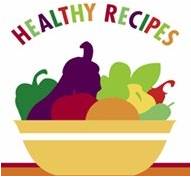 Your lunch box needn't be a chore every time you have to think about making something.  Jo from our nutrition team has made these nutritionally balanced dishes out of things readily available.  If you are on a budget, buying dried beans and following the instructions on soaking them can save money, as can always making the most of your joints of meat if you are using them, boiling the bones of your chicken makes a wonderful broth and you can freeze the stock for use at a later date.  We will write more on credit crunch meals or if you would like more info why not book a workshop for your employees?  Here are a few of our favourite, along with some inspired choices from the Workplace Healthcare team's recent travels.
Bean salad: ½ tin mixed beans, ½ bag of salad, 2-3 chopped tomatoes, 1 grated carrot, 1 chopped pepper, ½ chopped avocado, drizzle on 1 tbs olive oil, squeeze of lemon and mix well
Apple & bean salad: : ½ tin mixed beans, ½ bag of watercress/rocket, 1 chopped apple, 1 chopped stick celery, 1 handful coriander chopped, ½ chopped avocado, drizzle on 1 tbs olive oil, squeeze of lemon and mix well.
Greek inspired dishes: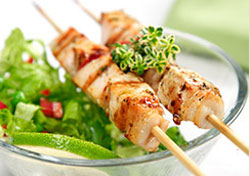 Feta salad:  Chop cucumber and tomatoes and mix in bowl with olives, feta and som e fresh thyme (optional) and lots of cold pressed olive oil.
Souvlaki: This can be eaten as a dinner and the remainder brought to work as a lunch box treat!  Chop chicken (breast or thigh) and add to skewers along with chopped peppers and onions.  Coat in olive oil and season and grill for 20 minutes or until meat is cooked through.  Eat with salad and wholemeal pitta bread.
Egg/cottage cheese/ ham/ chicken salad: as either of above but replace beans with 1-2 eggs or 1 tub of cottage cheese or 1-2 slices of cold meat or marinated tofu chunks
Leftovers from dinner: Cook enough dinner to eat the next day for lunch cold e.g. baked chicken/fish and baked vegetables (add some more salad if needed)
Quick Soup: 1 handful lentils, 1 chopped carrot, 1 chopped celery stick, 1 chopped clove garlic, 1 pinch chilli, 1 bayleaf, 1 pint vegetable stock. Boil till lentils are soft, then liquidize. Eat with rye/whole meal bread and handful of green salad.
French Inspired Potage or Quick chicken soup: Boil leftover chicken bones + 2-3 slices chopped chicken (cooked) with 1 handful brown rice in 1 litre vegetable stock, 3 sprigs thyme (or any other fresh herbs) until rice is cooked. Remove chicken bones and add juice of one lemon.   To make it interesting on different days you can add some freshly made crutons, some gently fried onions, some soy sauce and coriander.
And to Japan for the Miso soup: 1-2 tbs miso +1 piece dried seaweed + 1 litre water. Simmer for 10 mins and then remove seaweed. Add 1 packet of silken tofu chopped and 2-3 chopped spring onions. Cook for a few more mins.
Sandwich toppings/fillings:
Mash 1 avocado with juice ½ lemon+ 1 chopped garlic clove. Spread on rye/wholemeal bread/ryvita/oatcakes. Top with 1 spoon of cottage cheese and slices of orange/apple.
Mash 1 tin sardines/1 fillet smoked mackerel with 1 squeeze lemon juice and 1 tbs plain yoghurt. Spread on rye/wholemeal bread/ryvita/oatcakes. Eat with handful of rocket/watercress
Chop 1-2 hardboiled eggs and mix with 1 chopped tomato, 1 handful of cress, pinch of pepper. Spread on rye/wholemeal bread/ryvita/oatcakes. Eat with handful of rocket/watercress
Our on-site massage teams have been inundated with employees who are suffering with colds and flu this month.  Luckily we are trained to recognise when to treat and not treat, and have been able to clear blocked noses and stuffy heads with our facial point massage.  It is great if we do it, you lay back and relax, but if we aren't coming to you for a while, or if (heaven forbid) you don't have the workplace healthcare massage team visit your office, then don't panic – here is the routine!
You could enlist the help of a colleague…. or even sit and do it in front of your computer (no one will know honest) the perfect office massage.
It has been clearing sinuses and reviving employees at the companies we work at and we hope it helps you, do write back and tell us, or tweet us #healthystaff
 Are you sitting comfortably?  Please do not do this routine if you are pregnant.
Points 1-4 run across the back of the head (find the bony bit where your head meets your neck) and using thumb or fingers massage along the ridge.
then simply follow points 5 – 20 in order (it doesn't matter if you don't keep to the order – relax and go with the flow!)
If you are doing this at home, apply some oil (olive, jojoba, avocado) and sit back and relax.  If you are doing this at work, it's best not to apply oil just before you go into a meeting. he he.
We have found it brilliant to help clear blocked sinuses and stuffy heads, it is also said to act as a natural face lift – perform every morning before stepping out of bed.
Our Nutrition workshops are interactive and informative ways of getting staff interested in their wellbeing through diet.  At this time of year, the first bearing of flesh ensues and I share with everyone who thinks about the steamed puddings and toad in the hole we enjoyed in the winter months!  In this article you will find a few ideas for breaking the chocolate cycle (that craving after lunch or dinner for chocolate/sugar), along with some recipe suggestions for stamping out baddies (snacks that don't serve us well!).
Our calorie requirements in the summer vs winter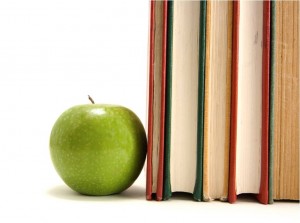 Actually these don't change.  If we eat well and balanced there is nothing to say we require less calories in the summer.  We should match our calorie intake to our level of exercise and if we are exercising more in the summer, we may need to take on more calories.
Trying to tone up and lose weight is often easier in the spring/summer as we can feel more motivated and energised, it is natural for us to spend more time outside and eat less stodge.  If you find yourself reaching for the Baddies:
Crisps
Cakes
Sweets
Biscuits (even low fat can have lots of sugar)
Fizzy drinks
Salted nuts
Even look out for the puffed rice treats in the supermarkets, whilst not fattening, they are incredibly full of salt, more per 100g than a bag of crisps!  In fact this is true of many low fat foods, they typically contain more sugar and salt than their slightly more 'fattening' counterparts.  Would it be best to have a 'little' of what you like than 'allot' of synthetic flavoured treats?
Try these simple ideas:
If you are used to having a salty snack such as crisps or nuts (think glass of wine or beer), then these tasty treats are full of healthy goodness.  Pumpkin seeds are a great source of magnesium, manganese and phosphorus, iron and protein and are also one of the most concentrated sources of zinc.  Sunflower seeds contain B vitamins B1 and B5, folate and selenium as well as a good amount of magnesium.  A power packed source of nutrition!
Pumpkin and Sunflower Tamari snacks
Simply take a cup of each seeds (or just use 2 cups of one type) mix with 2 teaspoons of Tamari (you can use normal soy sauce, tamari is our favourite at the WPH offices) and you can either:
Heat a large skillet/frying pan and pop seeds in – keep turning them until they brown ever so slightly and start popping, or
Pop on baking sheet and put into oven – mid heat – for around 12 minutes but keep an eye on them either way, they burn quickly!
Tip out onto plate and enjoy!  We keep them in a tub in the office for those 5pm cravings!
Nuts.  Glorious Nuts.
Quite simply nuts are nutritional powerhouses!
This is my key to cutting the sugar craving after food or in the afternoon or evening.  Nuts are nutritious and have a high fat and fibre content thus making them very filling, reducing the need for rubbishy snacks as your body has all the nutrients it needs it gets the correct messages from your food, the complete picture, reducing cravings.
It's true, nuts are relatively high in calories, and this article is about toning up for summer, so you need to portion your power snack!  1oz is a good portion size (about 16 nuts although they are different shapes and sizes so you will need to work this out yourself!).  I mix freezer bags of nuts with dried fruit, try apricots, sultanas, cranberries and keep them in the cupboard to grab when I am leaving the house, or pop a couple in the car in the winter to ensure I have something to nibble on when I get the cheese and onion crisp urge – it works for me – give it a try.. and if you need any further convincing:
Nuts have been shown to play an important role in helping to lower "bad" cholesterol levels and raise "good" cholesterol levels. In addition, they can help dilate blood vessels and prevent hardening of the arteries.

The Nurses Health Study, which followed 86,016 nurses for 14 years, found those who ate 5 ounces or more of nuts per week reduced their risk of dying from heart disease by 35%. The researchers also noted that the nut-eaters tended to weigh less than the nurses who did not eat nuts.
More Seeds?
Sorry seeds again.  Looking for an alternative to cake, and those sugar filled cereal bars you can buy in the supermarket, I make these little beauties.
4 seed bar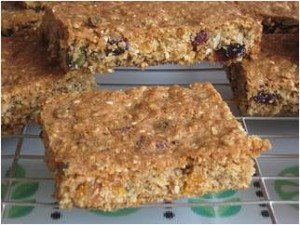 s
2tbsp sunflower seeds
2tbsp pumpkin seeds
2tbsp linseeds
2 banannas
100g butter
3tbsp honey
50g millet flakes (if you don't have use more oat flakes)
100g oat flakes
100g dried fruit (cranberries are nice, apricots, sultanas, raisins etc)
Heat oven to 180/350/gm4
1. Grease a tin – either 28 x 18 x 4 or you can use bun tins, just give them a spritz of oil
2. Chop seeds (I blitzed seeds and dried fruit in chopper/blender) and mash banana, mix everything together and pop into tin, or press into bun tins and bake for 30 minutes (big tin) and around 20 minutes for bun tin.
Cool on wire rack and enjoy.  They will keep for around 5 days or you can batch cook them and freeze them in portions.
Also, play around with the ingredients, you can add some nuts (simply chop finely or pop in blender)!!!
If you hate nuts and seeds, we do have some other ideas:
Fruit – good old fruit.  Amazingly it tastes great, you just have to remind yourself if you don't eat it often.  High in
antioxidants, fibre and natural sugars, they will give you a good energy boost.
Eggs – hardboiled they really are a great ready snack and even come in their own protective biodegradable wrapping!  Nigella pops a spent match in her boiling water, I don't tend to bother..
Vedge – chop up some of your favourites, cauliflower, peppers, carrots, sugar snap peas and try with my new invention, Dijon dip – Mayo, lemon juice, white pepper and Dijon – mix and dip!
If you are interested in nutrition for your workplace, get in touch, typically we run hour workshops together with 12 x 30 minute one to one employee slots, please enquire for rates and additional topics.
Stress is getting a bad press. And rightly so.  It may be a perception that a certain amount of stress is what keeps many people focussed, motivated, successful and happy, however, think again.  Stress is never a good thing, it's a certain amount of pressure that ensures we get out of bed every day and keeps us enthused.
Too much pressure/stress is another matter. This can slow a person down and often gets in the way of achieving the very thing a person most wants to do. And if you have a chronic condition this only adds to the frustrations.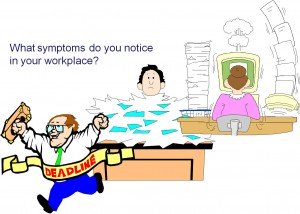 Stress is one of the body's messengers. A feeling of stress alerts the body that more is required of it right now. The body is informed that it needs to change state; to be ready to move or think quicker. There is a real and present danger that needs immediate attention.
Adrenaline commands. It closes down the digestion and diverts the energy to the muscles of the hips, thighs, shoulders and upper arms, and to the brain. The heart pumps faster. The brain analyses and assesses all options. The body is quickly ready to fight or flee; whatever stands the best chance of survival.
And when the emergency is over the natural response is to relax and to feel relief. This response is the signal for the adrenal glands to relax; for normal life to resume.
These days there are less chances of being presented with a real and present danger. Instead we get drip fed with information that is usually less than positive about things that may or may not affect us; crucially about things we as individuals have very little or no control over.
And this leads to an odd state of background fear or anxiety. This in turn causes a low level drip of adrenaline into the system, resulting in tension, palpitations, and a racing mind. And because there is no single discrete cause there is no single sense of relief that 'it' is over. The stress becomes a part of daily existence. And that is no way to truly live.
So, here a few breathing techniques that can help bring you relief and relaxation:
a) Become aware of your breath. Notice:  Is it fast or slow, shallow or deep?
Focus on your in-breath. Feel your out-breath and enjoy letting go. Let your breathing find a comfortable rate. Do this for 2 –5 minutes.
b) When breathing in think of a word e.g. Calm and sense calm entering your body with each breath.
With each out breath let the air leave your body with a sound, word or phrase e.g. Ahhhhh or that's better.
c) Focus on your breath, then take a couple of deeper breaths in and out.
Then one deep breath in – and hold it. Hold it until it gets uncomfortable and then let go with a sound, word or phrase.
d) Breath in and hold your breath, as you hold your breath tense your muscles in your arms and legs. Relax your muscles as you breathe out.
Also, using a phrase like 'All is well' during the day reassures your subconscious.
Article by Carrie Harris, Workplace Healthcare Consultant.
An overwhelming urge to change.
That's what I hear year after year from people after the festive time.  Have to lose weight, tone up, get fit, get healthy, be better, learn more, rush around in circles and not achieve anything!  My advice:  Relax, Chill out a little, and make a plan.
I want to talk a little about basics really.  So many of us spend fortunes on vitamin pills, personal trainers, fashion, hair, beauty, and I believe our wellbeing building blocks start at such a simple point, if we miss this we are missing out on the foundations on which to develop our bodies, minds and souls into more rounded, resilient beings.
I am talking Oil, Water and Balance, believe it or not.
No performance engine will run efficiently without the right oil.
In today's society we have become "fat free" in our search for losing weight.  In my opinion, the quickest way to gain weight is to eat these "fat free" foods as they are all high in sugar or worse still in my opinion, artificial sweeteners.
When we eat processed, packaged and fast foods we often consume a high level of 'bad fats' (saturated fats), and then forget or become fearful of fats in general, actually we have to give our bodies some ammunition in the form of 'good fats' to deal with the outfall from the baddies!
Good fats are a special sub group of

polyunsaturated fatty acids, known as Essential Fatty Acids (EFAs). They are called 'essential' as they are not easily manufactured by the body and must be provided by food. They are split into two groups:
Omega 3 – These are found in oily fish, fish oils, some vegetable oils and some nuts and seeds.
Omega 6 – These are found in vegetable oils, nuts, seeds and grains.
In general we get sufficient Omega 6 fats in our diet from vegetable oils used in cooking, polyunsaturated spreads, nuts, seeds and grains. Omega 3 fats, however, are found in fewer foods so it is important to ensure we get enough.
What will the oils do for me? Many clinical studies have been conducted and researchers have found a multitude of benefits of omega fatty acids in human diets. Omega consumption in our diets benefits our bodies by protecting against heart disease, by improving our brain cells and brain function, and by helping our cell membranes remain healthy, here is some further research information:
A reduction in inflammation and prevention of chronic heart diseases can be attributed to consumption of omega 3 in diets, benefits include the lowering of LDL ("bad") cholesterol and triglycerides and the increased HDL ("good") cholesterol. There is also strong evidence that fatty acids help reduce high blood pressure, and by inhibiting the development of plaque and blood clots, help prevent and treat atherosclerosis. This evidence also strongly suggests that omega-3 fatty acid intake, primarily from fish, helps protect against stroke by the same process.
Infants benefit from omega 3 that promotes developing vision and nerves during pregnancy. Infants are at risk for developing problems in these areas, if they don't get enough omega-3 fatty acids from their mothers.
In rheumatoid arthritis, an inflammatory joint condition, studies have shown benefits of fatty acids in reducing joint tenderness, decreased morning stiffness, possible decreases in medications that control this chronic disease. Along with this joint condition, omega-3 benefits people with osteoporosis by increasing the levels of calcium in the body and by increasing bone mass and bone strength
People are at risk for suffering depression if they do not get enough omega-3 fatty acids. The benefits of omega-3 for this illness work by helping nerve cells to communicate, an essential step in achieving good mental health. Cell membranes must be healthy in order to improve brain function and the overall condition of our brain cells. Studies showed that people hospitalized for depression had lower levels of fatty acids than people who ate a healthy diet with omega-3. When treated with an appropriate amount of fatty acids, these people had reduced feelings of depression and hostility and improved brain function. The same studies found the same omega-3 benefits for people suffering from bipolar disorder and schizophrenia. Other studies suggest that people not suffering from depression may experience improved brain function with omega-3.
In studies of children with attention deficit/hyperactivity disorder (ADHD), it was determined that those children may have low levels of essential fatty acids. Some of those children exhibited learning and behavioural problems. More studies are needed to determine if omega-3 benefits children with ADHD by reducing their symptoms and improving their general condition.
There have been preliminary studies conducted that show omega-3 benefits for people with the chronic disease, asthma. They show that fatty acid supplements may decrease the inflammation in the lungs and improve overall lung function in adults.
More omega-3 benefits include a lower incidence of macular degeneration in people who consumed a significant amount of fatty acids from fish in their diets.
Other omega-3 benefits are being studied in regard to colon cancer, inflammatory bowl disease (IBD) and Crohn's disease, breast cancer, and prostate cancer. Some studies have preliminary findings that support the argument that the diseases are prevented from worsening by consumption of omega-3 fatty acids.
Women with the highest dietary intake of omega-3 fatty acids were found to have the mildest symptoms during menstruation in a study performed in Denmark.
Preliminary research seeks to determine whether there is an omega-3 benefit in fighting infections, and in treating ulcers, migraine headaches, lupus, emphysema, and glaucoma.
How can I add Omega 3 to my diet? Omega 3 fats occur naturally in seeds as alpha linolenic acid (ALA) and in oily fish as eicosapentaenoic acid (EPA) and docosahexaenoic acid (DHA).  Good sources of ALA include: linseed (flaxseed) oil, linseeds, soya bean oil, pumpkin seeds, walnut oil, rapeseed oil and soya beans.
The body can convert ALA into EPA and DHA, but not very efficiently. This is why oily fish plays such an important role in our diet. Oily fish contains EPA and DHA in a 'ready made' form that the body can use easily.
The main sources of oily fish in the UK include salmon, trout, mackerel, herring, sardines, pilchards and kippers, either fresh, frozen, canned or smoked. Watch out though, tinned tuna does not count as it does not contain the high levels of oils found in fresh and frozen tuna.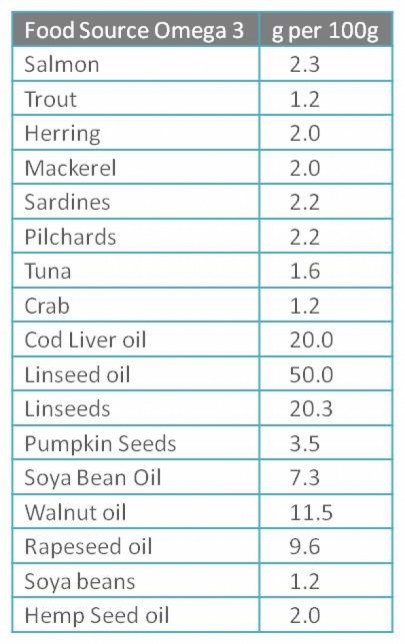 I understand that some of the health benefits, primarily the ones linked with cardiovascular health, have only been achieved through Omega 3 derived from fish sources.  If you are vegetarian, you may consider a supplement, Cod liver and fish oil capsules are a good source of EPA and DHA and in some cases contain vitamins A and D as well. If you are taking a supplement that contains vitamins A and D it is important not to exceed the recommended dose. If you are taking any medication you must seek your doctor's advice.
The great thing is, if you like fish, a tin of sardines is a great cost effective lunch and can sit in your drawer (unopened please!) for months – the perfect long life fast food snack.