The men have had the health article this week, so now I am indulging in a little 'home spa'.  Taking a little time out is necessary for everyone, if you deprive yourself of this you may find yourself getting a short fuse, feeling overly emotional and, dangerously, becoming detached from yourself and how you actually are feeling.   Hundreds of years ago when the pace of life was a little slower, we had time to simply sit, and be, daydream, not have any demands on us, now with our blackberry's, iphones, facebook and mobile media we really do have to make an effort to not become addicted to them (seriously people are having to be weaned off these devices).  Pick one or more a week, treat them like a recipe, make sure you have all the ingredients and simply follow the instructions, easy!
Ready to set up your little sanctuary?  You can create two areas: Your bathroom will become your "treatment room," and your, bedroom, or living room will become your "quiet room," where you can relax after your treatment (I forgot to mention you need to remove children and husbands first). Clear away any clutter that will prevent you from relaxing and focusing on your spa experience. Stash your products and makeup so that you can't see them.  Pop lots of nice fresh towels in the bathroom, and make yourself a jug of "spa water" – ice water with sliced lemons, oranges or limes and cucumbers. You'll need this to rehydrate in your quiet room following your treatment.  Now for the test, turn off your computer, television, radio, and mobile—you shouldn't be distracted during your spa indulgence, absolutely not.
NB:  Please consult your doctor if you have a heart condition, high or low blood pressure, or if you are pregnant.  The Epsom bath and essential oils will have to be avoided, and if pregnant be careful of nail varnish and remover.
Simple Manicure
1) remove any nail polish with remover.
2) file nails in one direction only (always do this when your nails are dry).  Marie Claire suggests a shortish nail, straight across the top with rounded edges.
3) wash your hands.  Prepare the hand soak (apple cider vinegar – about 1tbsp in a bowl of water).  Soak and daydream away for 10 minutes. Dry hands with soft towel.
4) apply a fruit or nut oil into the cuticle area near the half-moon at the base of the nail. (Almond oil, Advocado oil, coconut oil or even olive oil work wonderfully.)  Use the blunt end of an orangewood manicure stick to gently push the cuticles back from the nails.
5) massage time.  You can use your favourite cream or why not look up a natural recipe?  Calendula cream from the baby isle is wonderful.  You can incorporate some of these pressure points: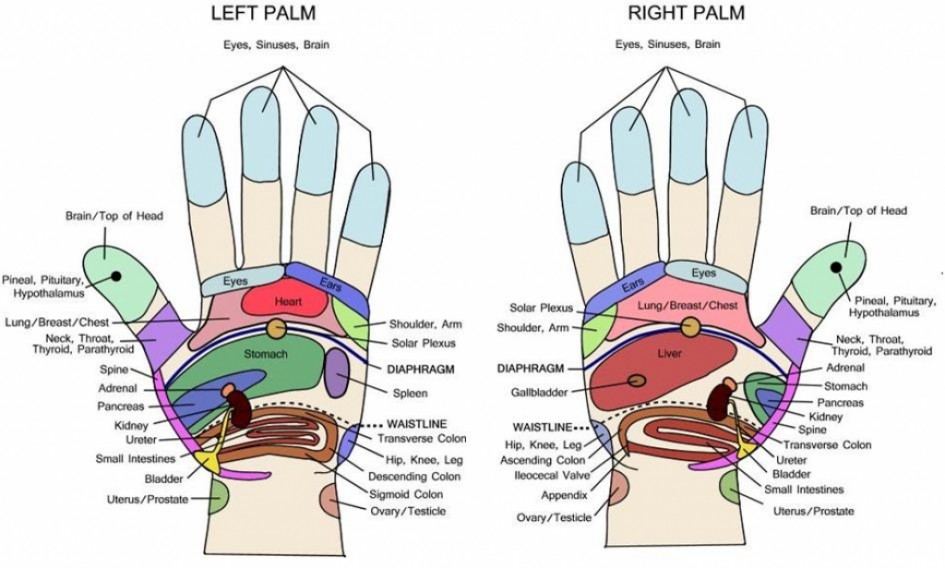 6) clean your nails with soapy water, you can now either use a gentle buffer to give your nails a natural shine, or add your polish.
Sit and relax for at least 10 minutes with some water.
Relaxing pedicure
1) strip old colour polish with remover on a cotton ball.
2) soak. Add Epson salt (2 tbsp) and your favourite scented oil (lavender, tea tree, rose) to warm water and soak your feet for 10 minutes.  I use a big bowl surrounded by lots of fluffy towels.  Sit back and relax.
3) buff. Dry your feet with a clean towel. Now you can exfoliate the feet and either use a pumice (gently) or a scrub, you can make a natural scrub:
Peppermint Essential Oil
Lavender Essential Oil
Sweet Almond Oil
Sea Salt
Firstly, you will need to measure out around one and a half cups of sea salt and add around 4 tablespoons of sweet almond oil. Make sure to combine the mixture evenly. Then simply add two or three drops of both the lavender and peppermint essential oils to the mixture.
4) trim. Cut nails with a toenail clipper, then file them to your length of choice. Run your finger across the top of your toe. If your nail barely grazes your finger, you've got the right length.
5) moisturise. Massage your feet and legs with your favourite cream, pay attention to any tender areas on the feet and legs.
6) soften. Apply Almond oil (Olive oil will work) or cuticle oil to your cuticles.  Leave to soak for a minute or two.
7) push. Use a cuticle stick to press cuticles back so they don't get in the way of the polish.
finally  polish. Apply a base coat first, then, apply two thin coats of polish. You can finish with a top coat for extra staying power!
Sit and relax for at least 10 minutes, drink some water.
Body Cleanse
We are going to use a simple technique of bathing for a really good cleanse!
Epsom Salts is the common name for Magnesium Sulphate which is a chemical compound containing Magnesium and Sulphate.  They are an affordable and easy way to enhance cleansing and to relieve stress. The high magnesium content within Epsom Salts help to draw acids through the skin and are well known for their amazing and effective way to relieve aching limbs, reduce muscle strain and are excellent in helping with back pain. On top of that they have been known to heal cuts, reduce soreness from childbirth and relieve colds and congestion from within the body.
Epsom salts are also a sedative for the nervous system.  Yet surprisingly not many people use them or know about their qualities.  When I was younger, you could buy kg bags from the local chemist, they now only sell them in tiny amounts, so you would do well to source a good supplier from the internet.  (Unless you have an old fashioned chemist around.)
You can run a hot bath and add up to 450g of salts.  It would be best to start with 100g and build up.  Simply sit back and relax.  Light a candle, sing, listen to music….
Stay until you need to get out and lay down for a good 20 minutes.  It would be best not to add any moisturizer to your skin, especially nothing artificial.  Ideally do this before you go to bed and make sure you drink that nice chilled water we prepared!
The Moon -  can have an effect on how we assimilate things, when the moon is waning and new we are mostly detoxifying, when the moon is full and waxing then we are able to absorb nutrients and toxin more easily, so if you want to be particular, the cleanse should be done on a new or waning moon!
Deep conditioning winter hair treatment
1/4 cup mayonnaise (room temperature if possible)
1/8 cup olive oil
1 egg yolk
4 drops lavender essential oil
Blend all ingredients together in a bowl.
Apply thoroughly through your hair adding extra at the ends.
Pile on top of your head and cover with a plastic shower cap and then cover with a towel to keep in the heat from your head.
Leave on for at least 10-20 minutes and then rinse out.
You can either rinse and leave hair overnight then shampoo, or if you are going out, shampoo twice and go.
A blast of cold water seals the hair follicles and makes hair super shiny.
More beauty tips in January.