As teams are working remotely, social connection is challenged so to are our foundations and our normal.  It can be really helpful to give employees some tools to connect.  Pulling on themes that are interesting and engaging.  I am taking part in a free bicycle maintenance workshop tonight, have a regular meditation practice and enjoy the scenery of my home town and having some outdoor 'walking' meetings, and still the times are challenging.  I hope these simple ideas will give you some thoughts if you are looking to build rapport and engagement:
Bingo! how about arranging some virtual employee wellbeing bingo.  We love this one – Printable Bird Bingo.  One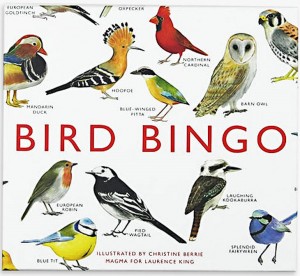 person will need to pay and download it and then send it around to the other players for printing at home.
Vegan Cook Off.  Well – it helps that I know how amazing the food from this lady is – you can join her for a cook along at home.  You can then all sit down and have your dinner together on zoom or teams?!!  Check out Rethink Vegan tonight is chickless creamy Pie.
Nutrition Session.  Ok we sell this…so we are biased in our thinking – however it is easy to get stuck in a rut with food at the best of times and in our Nutrition and Immunity workshop explore the immune system and why we need it,  look at our innate and adaptive immunity – what is the difference and why do we feel so horrible when our immune system is "working"?  We explore Stress / gut / sleep and immunity and find out the link?  Ginger, garlic and honey – do it as your grandma would? (old wives' tale?) and we look at the myths and facts around vitamins for our immune support.
Book Club.  Virtual book club – you have to have some form of hot drink and sweet (raw baked full of goodness or not) treat to make it authentic (or a glass of wine) and this is a great way of pulling people together.  amazon or audible have some great suggestions if you are stuck or try and pick a good classic.
We would love to hear about the ways you are keeping your team engaged so we can share them.  We attended a socially distanced silent disco for one lovely company at our dear friends plush tents and they have some great outside distanced ways to work with you all if you feel the need to sit around a camp fire and enjoy the natural space in the spring.  Get in touch with us: victoria@workplacehealthcare.co.uk for more ideas and our virtual employee wellbeing brochure.

March
Ovarian Cancer Awareness Month
Prostate Cancer Awareness Month
12th No Smoking Day
17th – 23rd Vascular Disease Awareness Week
22nd World Water Day
April
Bowel Cancer Awareness Month
6th – 13th Orchid Male Cancer Awareness Week
7th World Health Day
28th World Day for Safety and Health at work
February is national heart month.  Learning to take care of your heart is one of the most important things you can do for your health. Encourage your employees to know their numbers and book for employee health screening.  Three of the most important things to put into practice for heart wellbeing are:
giving up smoking – smoking damages your heart.  Your heart has to work harder as the Carbon Monoxide in tobacco smoke reduces the amount of oxygen in your blood.  Smoking also damages the lining of your arteries which can lead to strokes, angina and heart attacks.  Just in case you still fancied a fag break – did you know there is cadmium in your cigarette?  this is linked to cancer and is used to make batteries!
being active – encouraging your heart to work.  Not only does exercise assist in weight control, it improves circulation, increases good cholesterol in your body, reduces blood pressure, builds muscle mass and increases fat loss.  You don't need to rush off to the nearest gym, put on some of your favourite music and dance, hoover the stairs, create a circuit around your home or get out and have a daily walk – these are all beneficial in creating heart health.
eating well – increasing your fruit and veg, eating less refined sugar and carbohydrates – this includes white pasta and rice, including nuts and seeds and healthy oils such as coconut and olive are all good ways of keeping your heart healthy.  Your BMI (body mass index) is greatly linked to heart health.  Quite simply the more fat you carry and larger your waist size, the harder your heart has to work.
We would  like to add an additional idea for you to consider when looking at heart health: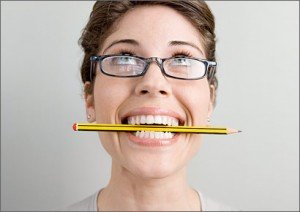 Stress Levels – providing yourself with a healthy emotional outlet for emotions can be key to heart health.  A healthy diet will not fix your heart if you are harbouring years of resentment and anger – however making changes to your diet can make you feel positive and encourage you to find a healthy outlet!  Learn to manage pressures differently – we cannot always alter the situation, we can alter the way we perceive it.  Great ways of dealing with blocked emotions: letter writing  -  you don't have to send it, quite often in my case a very good job I don't, but get all your thoughts and feelings out.  You can ceremoniously burn the paper afterwards or keep them, whatever works best for you; painting and drawing – doesn't have to look like anything, just free flow, use the colours and shapes that help you put your emotions on paper;  dance – this will help with that waist line as well and is a great way to encourage endorphins and positive feelings; laughter – book yourself in to a laughter workshop or just start laughing…try the pencil technique – pop a pencil in your teeth lengthways and notice that you are smiling even if you don't feel like it…after a while positive messages will be sent around your body and you may…just may feel happier!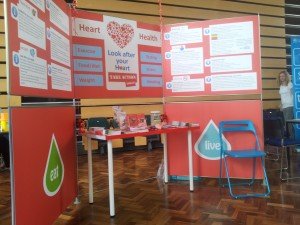 What can we do to help?  Heart Health is our business.  We can set up our heart health stand with literature and wellbeing information, provide our team of nurses to help employees understand the risks of heart disease, using biometric testing such as cholesterol, blood pressure and body mass index we can gauge individuals risk of heart disease and provide advice to individual employees.  Additionally, we can help employees to understand stress and pressure and how they differ, equip staff with coping strategies via our workshop or one to one coaching, promote healthy eating with our live food demo's and workshops and encourage exercise by setting you up with some in-house fitness classes.  Do get in touch if you would like to find out more.
In recent times there has been a shift within the workplace health industry, from concentrating solely on an employees health to focusing on their overall wellbeing. A more holistic approach that encompasses not just the state of their physical health but also the health of their mind. Along with this has been a natural movement towards preventative initiatives, still backed up by the bedrocks of oh, health & safety, physio etc. This does imply a new and old approach, but this needs to be discarded for a 'one' approach, a joined-up approach if you like. Now this is important if you are serious about taking on and investing time and money in a wellbeing strategy.
Adopting this approach will help you no end further down the line. Quantifying the results, effect and return on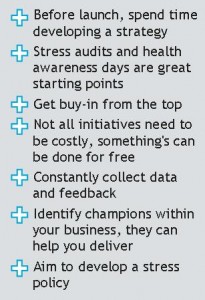 investment will empower you to keep your strategy on course, viable, and supported. Data collection makes it easy to  tweak or change things that are maybe not working and also gives you the opportunity to benchmark against other organisations.
What about costs? Everything costs but not everything pays back! A well thought out scheme will at worse break even, when you consider the potential outcomes eg lower absence rates, more productive & engaged staff, improved working environment, better team dynamics, stress reduction, these and many other outcomes all filter into the bottom line.
Compliance & regulation look to be going one way, tighter and tougher, so you may well be forced into dealing with this issue, but without doubt it is always much nicer to do things because you want to. The 'business case' is always important, but do not forget the social/corporate responsibility angle as well. First steps can be the hardest, if you have never tackled this issue before, don't despair this may be an advantage, to kick off with fresh impetus without the splinters of old schemes and dormant initiatives can make delivery a lot easier. Read our top tips and if you need to talk get in touch!
Avoiding employee burnout has to be at the top of the agenda for any business who is serious about the responsibility to their employees.  Directors, we are talking to you.  Burnout comes to many a top performer, and at an even greater business cost.  Having an effective work life balance policy and ensuring it is followed and not just sitting on the shelf, will reach out to all employees if it is followed from the top.  Managers who fail to realise that employees do need to have a life to be able to perform at their peak are putting their own success into jeopardy. We don't have to look far to see examples of senior Director's who have had a big impact on business income by quite literally spreading themselves too thin and burning out.
We launched our wellbeing workshops with Lloyds this week to support the new Commercial Wellbeing portal, Live Life Well.  The programme, designed to provide employees with the tools to understand and actively incorporate healthy living into lifestyles, consists of 5 main areas:  WellMan : WellWoman : EatWell : SleepWell : Resilience.
Each of these elements had a strong effect on employee performance and therefore a direct impact on the business bottom line.  If employees are not sleeping or eating well, or do not have the tools to effectively handle change and pressure in our increasingly pressurised world, companies may notice (or not notice but suffer from) presenteeism.  Whilst absence rates may be dropping, don't necessarily see this as a sign that things are great.
Presenteeism is defined by having employees who are at work, but not able to perform at their full capacity due to ill health.  In the current climate it is reported that nearly a third of workers will go into work when they are feeling unwell, because they are worried about their jobs.  This is an unsustainable situation, and the costs to Britain's business is estimated at over £15 billion per year.

So we can do our bit to promote wellbeing and healthy staff and profits, but we really do need awareness from the Board, Directors, Managers, the CEO to be able to make realistic changes that will improve employee happiness, health and wellbeing.
Is Today! (November 2nd)

The theme is wellbeing and resilience at work.  It has to be said that achieving a good work life balance can dramatically help in terms of both employee wellbeing and resilience.   Helen Whitten, trainer at Workplace Healthcare held the position of Deputy Chair of the Work Life Balance Trust. Formed in 1998, their aim, which was achieved, was to get work-life balance and flexible working on the agenda of business and government. Cherie Blair and Margaret Hodge were involved in this and flex working became policy.
Helen explains 'Performance goes down, as does engagement, if people are feeling pushed at work and

unable to balance home commitments.  The main problem people complain about is relationships and it is a major expense to business when people's home relationships break down because they go 'out' of the business in their minds and cannot concentrate for a considerable period of time so there is a real incentive to the business to support people both in the workplace and to maintain quality of life.'
There have been many papers written to demonstrate the correlation between balance and performance, sickness absence, engagement, loyalty to the business and staff turnover, key areas especially in the challenging financial climate many of us face.
If you would like to read more about our Work Life Balance workshop, please click here.
If you are unprepared for promoting National Stress Awareness Day, here a 3 things you can do that don't require a great deal of planning, and may help your team to feel a great sense of happiness!
1.

Grab your co-workers and get out in the fresh air for a lunch time walk.
Studies show that walking can:
Reduce the risk of coronary heart disease and stroke

Lower blood pressure

Reduce high cholesterol and improve blood lipid profile

Reduce body fat

Enhance mental well being

Increase bone density, hence helping to prevent osteoporosis

Reduce the risk of cancer of the colon

Reduce the risk of non insulin dependant diabetes

Help to control body weight

Help osteoarthritis

Help flexibility and co-ordination hence reducing the risk of falls
(source The ramblers association)
2.

Encourage a smile – invite employees to try this for just a few minutes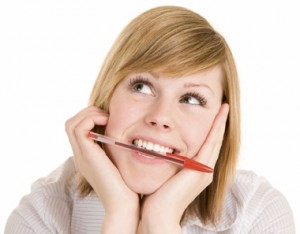 whilst visiting a great client last month I was reminded of this bit of research.  Place a pencil in your mouth, like so which forces a smile, and hey presto, you will feel happier!  This is the work of Fritz Strack and subsequently Berstein, et al.  Apparently the facial changes involved in smiling have direct effects on certain brain activities associated with happiness.
Thanks to Kate from Beiersdorf for the top tip.
3.

Encourage healthy relationships
Ask employees to have a think, tomorrow they have to bring in one thing that is important to them.  Then the next day at lunch time arrange a gathering, and employees can layout their offerings with a paragraph about why their chosen items are important, they don't need to discuss it if they don't wish, some may want to tell you everything and others may simply want their items to be their representation.  It will encourage a sense of fun, and of finding something out about a colleague you didn't know, thus enabling greater communication skills.
Have fun!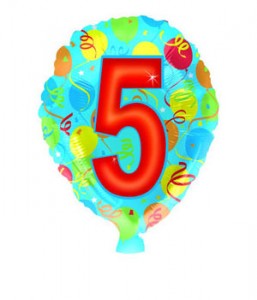 Employee Motivation – Expanding our horizons, learning new skills and loving the rewards.
Those team building days Mmmm.  The cynical among us who have waded through a sea of post it notes, jumped in icy waters and stepped over hot coals in the name of building relationships and working better may sigh at the prospect, however, if you need to inject some pizzazz into your workforce, reward employees for a job well done, iron out issues in communication that may have arisen, or encourage healthy team work; then don't overlook team days or run quickly in the other direction.  A change is as good as a rest, so they say, and a change of scenery can help increase our creative streak, which is great if you desire switched on creative employees.
Here are our 3 favourites (at the moment!)
Sailing. Learning to sail can be for everyone.  Whether you choose small dinghy sailing (you will get wet) or a bigger yacht, you can guarantee everyone will have issues and solutions to discuss and share, new feelings and experiences to talk about, and being on the water is great for reflection and seeing the bigger picture in life.  We love Cobnor Sailing School, they run residential courses and the setting is by far the best we've seen.
Foody things. We are really enjoyed the two Italians doing foody things on the tv this year, it gave us great things to talk about (mainly food)  in the workplace healthcare office, and we think that it has to be something of a common interest, I don't think I have ever met anyone who just ate for the sake of eating, perhaps we aren't quite as passionate as the Italians about food?  Prove me wrong?  However, learning some new skills can do wonders for confidence; encourage health through food and home cooking.  Keep an eye on Carluccios, they run events across the UK and if you have seen the programme, who can fail to be inspired?  Also, we love Chocolart, learn to make your own hand made chocolates, a friendly team and a very professional delivery help to make the team experience first class.
Giving Something back. Working for charity can be rewarding.  Arranging a team day with a local charity is free and you can feel part of a project, many local charities would be grateful for your time, perhaps they have some grounds that need taking care of, vegetable gardens that could be set up, painting and decorating needs, taking care of people, cooking or perhaps inviting local charity organisations to you for a tea morning and encouraging employees to make cakes, fellow employees to buy them, and thus fundraising for your local appointed charity.  Ask your employees what they think would make a difference, and how they would like to give something back and go for it.

Tie your well being events in with the world health days.  For example, this month gives us 'Love Your Gut Week' and who could miss an opportunity to promote healthy eating and exercise when there are direct links to an increase in ill health when we choose to ignore some simple healthy steps, the website has lots of free information and can help you kick start a campaign.  Our Nutrition workshops and yoga classes can be great additions to help advertise the healthy gut message.
In September we have Migraine Awareness week, setting up a stand with information for employees to pick up info, booking a therapist to offer Indian Head Massage, running a lunch and chat for employees who suffer or have relatives who suffer with migraine to share tips on what works for individuals and new ideas can all be used to promote wellbeing.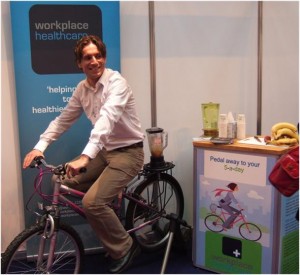 Other ideas that you could work with throughout the year are walk to work week, whilst not feasible for everybody, you could do a 'walk around work' week and utilise the pedometers that will come in ever so handy on a number of occasions!  In May we have fruity Friday, you could set up a stand with free fruit, have a member of staff with a blender blending up some tasty recipes (or have our smoothie bike on-site and pedal away to your 5 a day) promoting healthy eating.  There are lots of free resources, for example the British Heart Foundation will provide you with a wide variety of promotion information and leaflets –what's more they are free/donation.
In September we have 'Know your Number Week'  you could link this in with an awareness campaign, have your OHN's providing some health checks, or call on us to visit you and carry out our know your numbers health screens.
There is always something to add some zing to your campaign, set your budget early, plan the campaigns throughout the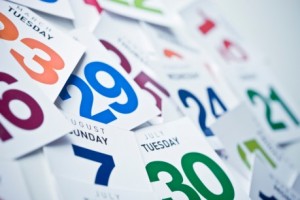 year.  We will happily put together a proposal based upon the health days for the year for you, saving you valuable planning and resources, just get in touch!

Wellbeing Champions.
Sometimes the difficulty in keeping up momentum comes when the pressure of running a wellbeing campaign is all on your shoulders (HR/OH Departments).
Spread the load a little.  There is some evidence to suggest that your wellbeing campaign will benefit from enlisting the help of wellbeing champions within your workplace.
Put the question out there…….
Has anybody recently lost weight/attained their weight goal, would they be happy to help others by working with your wellbeing provider to promote the weight loss campaign?  How about a fitness goal/half marathon/personal best for someone?  Would they be happy to promote the new fitness classes you were thinking about running?  We often work with a number of employees within a company when there are multiple initiatives running, this way we can encourage and promote and most importantly, listen, through your employees ears.
Our services can be selected individually, or we can work with you to tailor an employee wellbeing day.  This service is available across the UK and you will enjoy the benefit of having one of our team work with you from conception to fruition, ensuring we listen to the details, delivering a great service.  This month we would like to say thank you to Colorcon for booking their wellbeing day with us.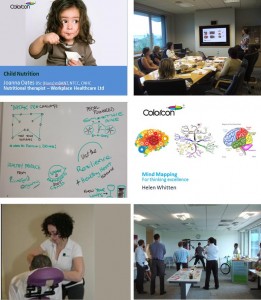 There was an energetic theme, with the Batak Pro providing the challenge  (well done Ben in IT!) and pedal power smoothie's fuelling the efforts.
Our focus was on fun and education and Colorcon selected a good range of training, Child Nutrition, Stress Busting Nutrition and Credit Crunch Meals; along with two workshops from our WorkSMART courses, Managing Pressure for Positive Peformance and Mind Mapping for Thinking Excellence.
It was a great day and as always, feedback and quality control is of great importance to us, I will be working hard to put this together for the Colorcon management team this week.
Thinking of running a health event in your work place?