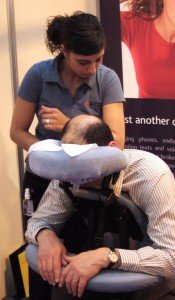 If you needed convincing of the benefits of calling on the wph on-site massage team to create a healthy working environment, they would happily oblige.  Over the last 12 years the Workplace Healthcare team have provided the service across the UK and Ireland and work with some great companies, many since they started in 1998.  10 great reasons?
Here they are:
target stress
boost productivity
low cost
improve morale
cut absenteeism
quick and immediately effective
no travel involved
great for health – proven to reduce high blood pressure
boost creativity
show staff you really care
Victoria Schermuly founder of Workplace Healthcare has been visiting companies around the UK for 12 years now and seeing the huge benefits of on-site therapies every day.  "Its so easy"  says Victoria " I've seen how difficult it is to fit appointments into a busy working day, so to make life easier and less stressful all round Workplace Healthcare come to you.  What's more as well as being one of the longest established company offering workplace therapies we were also the first to cover the whole of the UK and Ireland, so if your company is multi-locational it makes it even easier to set up."
What's involved ?
Each session lasts about 20 minutes and leaves staff feeling relaxed yet energised.  It is given on a comfortable, portable, specially designed chair and does not require staff to remove any clothes.  As a result it is ideal for people at work.  Workplace Healthcare on-site massage uses more than 100 different stress pressure points on the head, neck and shoulders, arms and back.  It is a wonderfully rejuvenating experience and leaves staff feeling alert, more focused and revitalised.  The effect is immediate and has a direct influence on well-being leading to increased productivity and reduced stress levels.  Call and contact centres can benefit from a 'roaming' service, shorter treatments which do not require the operator to leave their workstation.
Where ?
"Our clients include major blue chip companies to sme's both private and public sector, there really is no barrier,  and the feedback we get is fantastic" says Victoria  "many companies are use on-site therapies as part of a staff well being programme so we offer a joined up approach, with training, fitness and health screening enabling us to gauge the effectiveness of each intervention.  On site therapies also work really well on location! At product launches, training days and exhibitions – what better way to make your event really special".
Who?
There are many types of new companies offering on-site massage, how do I choose?  "It can be a bit of a gamble" says Victoria "however Workplace Healthcare can offer a truly professional service we have 12 years of experience de-stressing the business world.  All of our therapists are fully qualified and carefully selected for their caring nature and awareness of continual professional development.  What's more Workplace Healthcare can cover all of your business sites across the UK".
To hear 10 more great reasons to book Workplace Healthcare for your on-site therapies speak to Victoria today on 0845 2263391.