Our services can be selected individually, or we can work with you to tailor an employee wellbeing day.  This service is available across the UK and you will enjoy the benefit of having one of our team work with you from conception to fruition, ensuring we listen to the details, delivering a great service.  This month we would like to say thank you to Colorcon for booking their wellbeing day with us.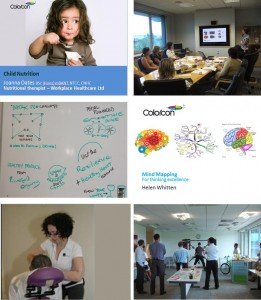 There was an energetic theme, with the Batak Pro providing the challenge  (well done Ben in IT!) and pedal power smoothie's fuelling the efforts.
Our focus was on fun and education and Colorcon selected a good range of training, Child Nutrition, Stress Busting Nutrition and Credit Crunch Meals; along with two workshops from our WorkSMART courses, Managing Pressure for Positive Peformance and Mind Mapping for Thinking Excellence.
It was a great day and as always, feedback and quality control is of great importance to us, I will be working hard to put this together for the Colorcon management team this week.
Thinking of running a health event in your work place?