In recent times there has been a shift within the workplace health industry, from concentrating solely on an employees health to focusing on their overall wellbeing. A more holistic approach that encompasses not just the state of their physical health but also the health of their mind. Along with this has been a natural movement towards preventative initiatives, still backed up by the bedrocks of oh, health & safety, physio etc. This does imply a new and old approach, but this needs to be discarded for a 'one' approach, a joined-up approach if you like. Now this is important if you are serious about taking on and investing time and money in a wellbeing strategy.
Adopting this approach will help you no end further down the line. Quantifying the results, effect and return on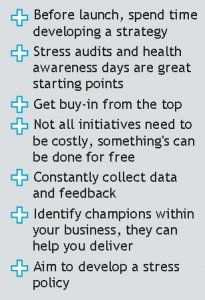 investment will empower you to keep your strategy on course, viable, and supported. Data collection makes it easy to  tweak or change things that are maybe not working and also gives you the opportunity to benchmark against other organisations.
What about costs? Everything costs but not everything pays back! A well thought out scheme will at worse break even, when you consider the potential outcomes eg lower absence rates, more productive & engaged staff, improved working environment, better team dynamics, stress reduction, these and many other outcomes all filter into the bottom line.
Compliance & regulation look to be going one way, tighter and tougher, so you may well be forced into dealing with this issue, but without doubt it is always much nicer to do things because you want to. The 'business case' is always important, but do not forget the social/corporate responsibility angle as well. First steps can be the hardest, if you have never tackled this issue before, don't despair this may be an advantage, to kick off with fresh impetus without the splinters of old schemes and dormant initiatives can make delivery a lot easier. Read our top tips and if you need to talk get in touch!