Thinking of starting a wellbeing programme, or have one running and need some momentum?
Over the next 5 months we are going to write with our top 5 ideas to get your workforce engaged, motivated and happy to come to work.  Here is part 1.


Move your Body. This has to be number one as the vt is so funny.  We are not suggesting that you all rush out and buy the equipment for making piano stairs (see clip) but it goes to show simply providing healthy options may not be enough, we have to get creative with our delivery promotion.  Here is a great must watch clip: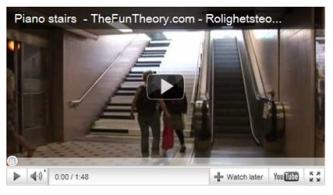 Simply encouraging employees to move a little (or allot) every day can do wonders for fitness levels and help to reduce musculoskeletal problems.  A pedometer challenge is low cost and will provide employees with the motivation needed to walk a little more, especially it seems if they are doing it for their 'team'.  Have a prize (we can wholly recommend the 3 hours of on-site massage therapy for the winning team!) we all like something to work towards.
If you have any inspirational stories that we can share with fellow readers, do write and tell us (we know you have!).