Is Today! (November 2nd)

The theme is wellbeing and resilience at work.  It has to be said that achieving a good work life balance can dramatically help in terms of both employee wellbeing and resilience.   Helen Whitten, trainer at Workplace Healthcare held the position of Deputy Chair of the Work Life Balance Trust. Formed in 1998, their aim, which was achieved, was to get work-life balance and flexible working on the agenda of business and government. Cherie Blair and Margaret Hodge were involved in this and flex working became policy.
Helen explains 'Performance goes down, as does engagement, if people are feeling pushed at work and

unable to balance home commitments.  The main problem people complain about is relationships and it is a major expense to business when people's home relationships break down because they go 'out' of the business in their minds and cannot concentrate for a considerable period of time so there is a real incentive to the business to support people both in the workplace and to maintain quality of life.'
There have been many papers written to demonstrate the correlation between balance and performance, sickness absence, engagement, loyalty to the business and staff turnover, key areas especially in the challenging financial climate many of us face.
If you would like to read more about our Work Life Balance workshop, please click here.
If you are unprepared for promoting National Stress Awareness Day, here a 3 things you can do that don't require a great deal of planning, and may help your team to feel a great sense of happiness!
1.

Grab your co-workers and get out in the fresh air for a lunch time walk.
Studies show that walking can:
Reduce the risk of coronary heart disease and stroke

Lower blood pressure

Reduce high cholesterol and improve blood lipid profile

Reduce body fat

Enhance mental well being

Increase bone density, hence helping to prevent osteoporosis

Reduce the risk of cancer of the colon

Reduce the risk of non insulin dependant diabetes

Help to control body weight

Help osteoarthritis

Help flexibility and co-ordination hence reducing the risk of falls
(source The ramblers association)
2.

Encourage a smile – invite employees to try this for just a few minutes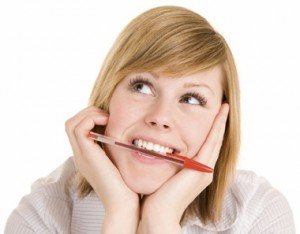 whilst visiting a great client last month I was reminded of this bit of research.  Place a pencil in your mouth, like so which forces a smile, and hey presto, you will feel happier!  This is the work of Fritz Strack and subsequently Berstein, et al.  Apparently the facial changes involved in smiling have direct effects on certain brain activities associated with happiness.
Thanks to Kate from Beiersdorf for the top tip.
3.

Encourage healthy relationships
Ask employees to have a think, tomorrow they have to bring in one thing that is important to them.  Then the next day at lunch time arrange a gathering, and employees can layout their offerings with a paragraph about why their chosen items are important, they don't need to discuss it if they don't wish, some may want to tell you everything and others may simply want their items to be their representation.  It will encourage a sense of fun, and of finding something out about a colleague you didn't know, thus enabling greater communication skills.
Have fun!