Get ready to Stress Down on 4th February!  We are promoting the Samaritans Stress Down Day with a free guide to Managing Pressure which will be available to download soon and we will send you the link.
There are some other free ways to support employees throughout the month, perhaps on an ongoing basis, visit our mind map for a full list:
and for now here are some ideas:
The worry Bag
a problem aired.  Place an old bag/Shopping trolley bag in a communal place in the office.  This bag represents a good friend, a confessional, a therapeutic tool.  Leave your troubles behind. 
Write a note to a lost one; confess a secret; offload a pressing problem, regret, a wish, a hope, a dream.
Employees can write their message on paper and place into the bag, and should be completely and utterly confidential and anonymous and feel light as a feather.
At the end of the week/month, you can take the messages and ceremonially burn them outside, giving thought to sending away the old and bringing in the new, or you can send the papers to us and we will release them into the ether for you!
Music Music Music
Create a music room where you can play relaxing classics or chill out music, you can hire some bean bags or simply make it a space where employees can visit and relax, no speaking, perhaps a nice cup of tea or a herbal.
Get your grove on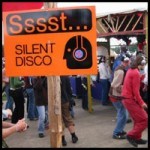 Set up a silent disco!  This is great for creativity and allows full flow of your deepest hidden dance moves!  You can hire equipment so that all employees attending are listening to the same music, or if you are on a big budget then that's no problem, encourage employees to bring in their mp3's with their favourite tracks on and off they go, onlookers without headphones will find it quite hysterical and will benefit from their very own laughter therapy.  Dance the lunch hour away.  
Healthy lunch
Each member of staff has to research a food and bring in a tasty dish based on the most health benefits.  Healthy eating discussion should ensue and recipe swapping and vedge growing tips are a must.  I will start you off, did you know that salad is much easier to grow in the colder months, in the summer our leaves just bolt and it is so upsetting!  Look at Winter Purslane, Red mustard Leaf, Land cress, rocket, and pak choi. 
If you would like details of our courses and services tailored to reduce stress and increase performance in the workplace, please do get in touch.