Visit us for a free on site massage!
The importance of stress management and the affects on Mental health from prolonged excessive pressure are increasingly in the spotlight.  With costs estimated at just under £4 billion to the UK economy every year it makes good business sense to equip employees with the tools to understand the symptoms and causes of stress and provide simple cognitive methods that will help them to manage their own pressure. 
The Stress Prevention and Mental Wellbeing Forum on the 7th April is being run by Symposium Events.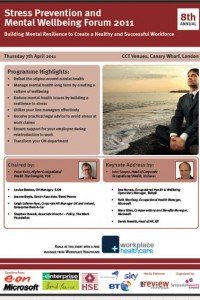 There is a great line up of speakers, including Peter Kelly – HSE, Louise Boston – E.ON and Dee Harrap from BskyB, all sharing knowledge on the subject and invvestigating best practice, what works for them, and practical ideas for you to try within your organisation.  For more information and to visit Symposium Events, click the image.
If you visit us, you can take advantage of a free on-site massage – specially designed to reduce stress, decrease the levels of stress hormones within your body and leave you feeling refreshed and revitalised!  Who could say no?
We would also love to tell you about our range of courses, including Managing Pressure for Positive Performance, Positive Thinking, Employee Resilience and the great Edward De Bono Six Thinking Hats, we hope to see you there.