The promotion of mental wellbeing in the workplace is critical to the success of your business – even more so in a challenging economic climate.
This is the key message from last week's Stress Prevention and Mental Wellbeing conference at Canary Wharf.   Chair for the day, Peter Kelly – Higher Occupational Healthy Psychologist for the HSE, opened the conference with a promising statistic:  There is a reduction in sickness absenteeism.
Figures show that absence due to stress related illness is currently 11.5 million – quite a reduction from the 13.5 million during 2007/2008.
This is a good thing – right?  Well no, perhaps not.  Here is a word that needs to be given a little attention over the next few years if you want to ensure good business performance:
presenteeism

— n

the practice of persistently working longer hours and taking fewer holidays than the terms of one's employment demand, esp as a result of fear of losing one's job
Here is the bad news:  Sickness presence is more prolific than absence, the average cost of sickness Presence is estimated at £145 per day (compared to £75 due to sickness Absence).
It is much more prevalent, with 45% of employees reporting sickness presence against 18% of employees reporting sickness absence over the same period.

So how many companies are focussing on sickness absence?  What can you do to ensure you are dealing with the bigger picture?  It is time to turn to the root of the problem, the health and wellbeing of the individual which has a direct impact on the wealth of the company.
Dame Carol Black's Working for a Healthier Tomorrow makes the point that as well as to 'realise the potential added value of raised productivity; organisations need to extend their agenda to health and well-being.'
The key to awareness is education, providing training and enabling not only management but all employees to recognise and deal with the effects of stress within themselves and their colleagues will have a big impact on your company health.  Presenteeism is linked predominantly to psychological ill health rather than physical conditions, stress, anxiety and depression all inhibit our ability to think clearly and thus result in us not performing at our peak.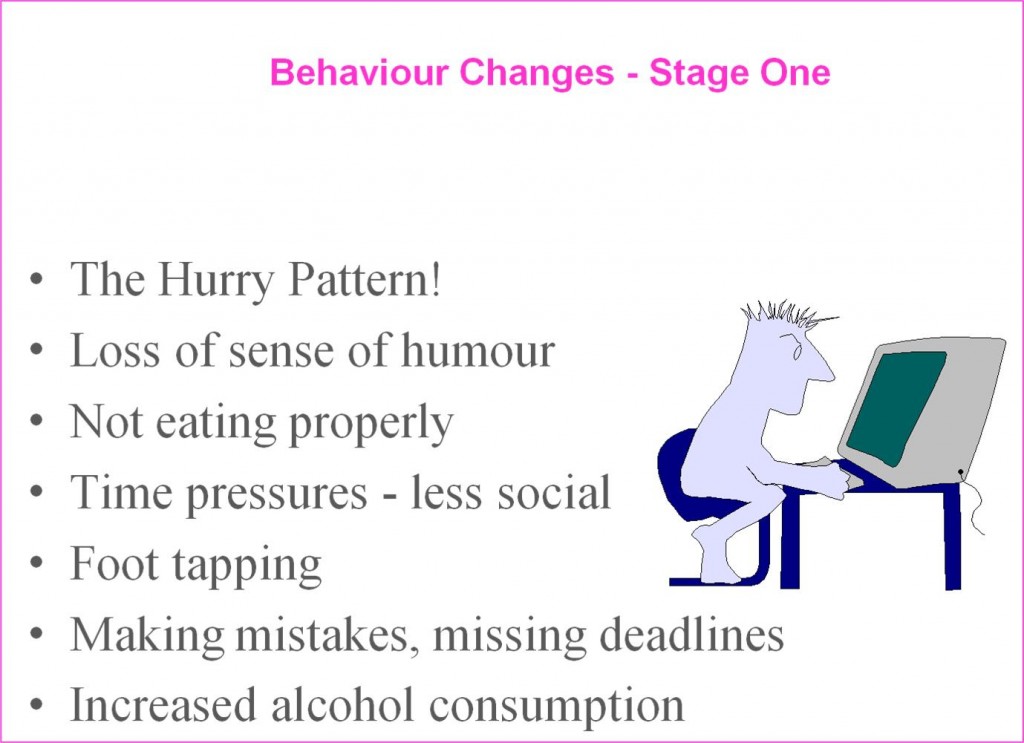 Running courses with either an external provider or utilising the services of your HR and Occupational Health team will stand you in good stead and ensure that employees are aware that stress is a personal thing – it is our reaction to the situation, and it is something we can change.
Further promotion around Mental Wellbeing is also a good business move, as demonstrated by many companies, E.ON have a great initiative running called 'Head Way'.  They managed to talk the senior management into letting them erect a garden shed in the main reception area at their corporate HQ, and in conjunction with training, promotion and literature, created a space where employees could help to break down the stigma of mental health issues. Employees were urged to visit the 'head shed'  for advice and were also encouraged to participate in an anonomysed survey. There were also 'graffiti walls' erected, allowing employees free expression – proving challenging at times for the HR team, this really was a brave move!  E.ON reported a reduction in new cases of mental health related absence by 25% since the launch, and I find this approach truly inspiring and highly commendable, and it is sure to have an impact on mental health related presenteeism.
April 11th to 27th is Depression Awareness Week and to support the cause Workplace Healthcare are offering 20% discount on all full day courses.
If
if do you have any success stories or would  like to share information about how you have experienced mental health issues in the workplace, do get in touch.
Victoria