For the fifth year running we had the pleasure of exhibiting at the Health & Wellbeing at Work 2011 event held at the NEC in Birmingham on the 8th & 9th of March. It's a great event, not just for promoting and selling our range of wellbeing services but also for networking with likeminded companies and individuals.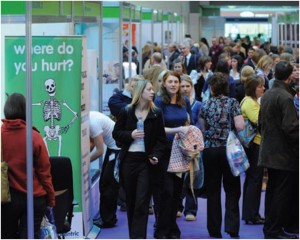 Sterling Events (the organisers) do a fabulous job, not just with the exhibition but with the conference programme that spans the two days. The depth and quality of speaker and subject matter makes this event a 'must be at' every year.
Topics covered included:  Stress management & emotional wellbeing; sickness absence management; health screening & health promotion; ergonomics; safety & accident prevention; equality, diversity & flexible working; managing MSD's & disability in the workplace; mental health; chronic disease and long term conditions; employee assistance; Occupational hygiene and environmental health; health & wellbeing policies and initiatives; employment law.
A whole day is dedicated to each of these topics, held within the various conference halls and rooms that surround the exhibition halls. Keynote speakers and experts deliver in depth and valuable information on these broadly related subjects. All under the one roof is the attraction and you will probably not find this coverage at any other event.
As for the exhibition, I did note that some of the bigger names such as Nuffield and Simply Health were not in attendance this year. Usually they have a big presence at this event, an event that is a perfect fit with their business models. I hope this not a sign of the times.
However, there was a vast array of SME's reflecting the vast range services and products that sit under the health & wellbeing umbrella. The positivity and energy of young start-ups and fresh,  creative thinking in a relatively (in some respects) new and growing industry always adds to the vibrancy of an event.
One negative factor of this, is the fragmentation of the sector. Each of the exhibitors commonly provide a single service or product, but my feeling is big business find it hard to deal with so many small providers when they launch a serious wellness initiative.
Big business usually at some point require everything quantified and justified, this is a big ask, as by its nature health & wellbeing, be it of a company or an individual is a complicated mix of configurations and permutations.  How we eventually present this in a cohesive understandable format is a big challenge. The preventative pro active side of health & wellbeing is the new and exciting side of the industry, a side that i truly believe in, if a company has the commitment and focus it can only benefit, however we need to communicate this in a way that big business understands. If we fail, then in combination with all the other challenges the economy is facing, could see the sector lose momentum.